Blonde, blue-eyed Andrea Sartori, president of Sartori di Verona enjoys Cuban cigars, has a mean golf swing, and even speaks with a slight Midwest twang. All three characteristics were honed over two decades of travelling throughout the US – but belie his heritage as a scion of one of Italy's most influential winemaking families.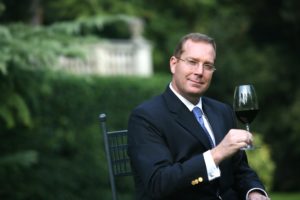 Andrea is the great-grandson of Pietro Sartori, who founded the Sartori di Verona winery in 1898. Today one of the Veneto's "Big Five" wine producers, Sartori di Verona has expanded significantly under Andrea's leadership. It is a testament to Andrea's success and to the reputation he enjoys throughout the Italian wine industry that he was called upon to serve an unprecedented two terms as president of Italy's principal wine producers' trade group, the Unione Italiana Vini (Italian Confederation of Vine & Wine), from 2004 through May 2010. The UIV represents some 60% of the Italian wine industry by turnover. In his dual capacity as owner of a major Italian winery and former head of the UIV, Andrea has benefited from an eagle-eyed view of the wine business in Italy and the world. "There is little demand for good quality wines. Today they have to be very good indeed!" Sartori drily observes.
Andrea's global perspective started early. After three years studying business at Verona's University of Economia e Commercio and attending the Cuoa business school in Vicenza, Sartori perfected his English while attending classes at New York's Columbia University. Back home Andrea started selling Sartori wines in the Italian market, but the world beckoned. Before long he hit the road, helping to expand markets in the US, Canada and Europe. In 1998 he was appointed Managing Director of Sartori di Verona and was named President of the company in 2000.
Soon after assuming the reins at Sartori di Verona, Andrea embarked on an ambitious range of initiatives designed to help Sartori stay ahead of the global competition. Early in the new millennium, Sartori di Verona joined forces with Cantina Colognola to assure a reliable supply of high-quality grapes. The high-profile enologist, Franco Bernabei, was recruited to consult. Sartori and Bernabei collaborated on the launch of a new premium collection of wines from a Sartori owned estate in the Mezzane Valley, followed by the acquisition of the pioneering Mont'Albano winery in Friuli to act as the anchor for its collection of organic wines.