Burgundy, or in its native tongue, Bourgogne, is a historic wine province made up of more AOCs than any other part of France. Burgundian winegrowers focus heavily on creating true reflections of their unique and rich terroir.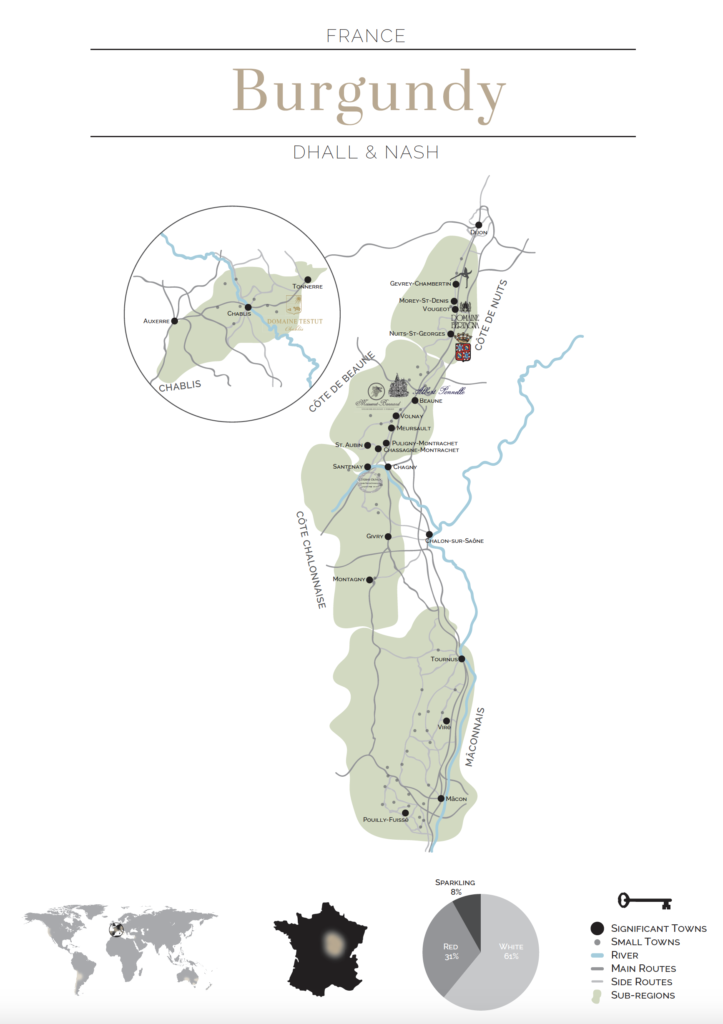 The earliest historically recorded plantings in the Burgundy region date back the 2nd Century AD, although it is believed the Celts may have been practicing viticulture in the area long before this, perhaps even back in the B.C. era.
Much of Burgundy's wine history comes hand in hand with its religious history – the Roman Catholic Church had an enormous impact on the success of Burgundy as a wine region. By 910, The Benedictines or 'Black Monks' had possession over a significant amount of vineyard land, and would maintain this ownership for centuries. In 1098, another order of the Roman Catholic Church was established in France – the Cistercians – and their Monastery was situated in Burgundy. This order dedicated themselves to wine and quality viticulture. In 1336, they created the Clos de Vougeot, a prestigious walled vineyard that is still operational today. With such immense dedication to the art of winemaking, the Cistercians soon noticed how vastly different wines could be coming from different growing areas. This was to be the foundation for the later establishment of the Cru titles and the region's renowned understanding of terroir.
Today, Burgundy resembles the quintessential vision of France. It is romantic and nostalgic – dubbed by some as the land of fine art and living. Life is fun and beautiful, yet without rush, and the locals believe this is down to the excellent food and even better wine.
The region links the Paris Basin to the Saône River corridor, and many of the vineyards are spread over undulating hills and banks. Part of the appeal of Burgundy, and the reason it is home to so many different AOCs, is it's soils and lands are so diverse – even within itself. So much so, that even grapes from the same singular vineyard sometimes produce different results.
To learn more about this diverse and stunning wine region, click here.