California has been producing wine for over 200 years. Largely driven by Zinfandel, Cabernet and Chardonnay this state is also home to a diverse array of varieties and terroirs spread over more than 100 unique AVA's (American Viticultural Area).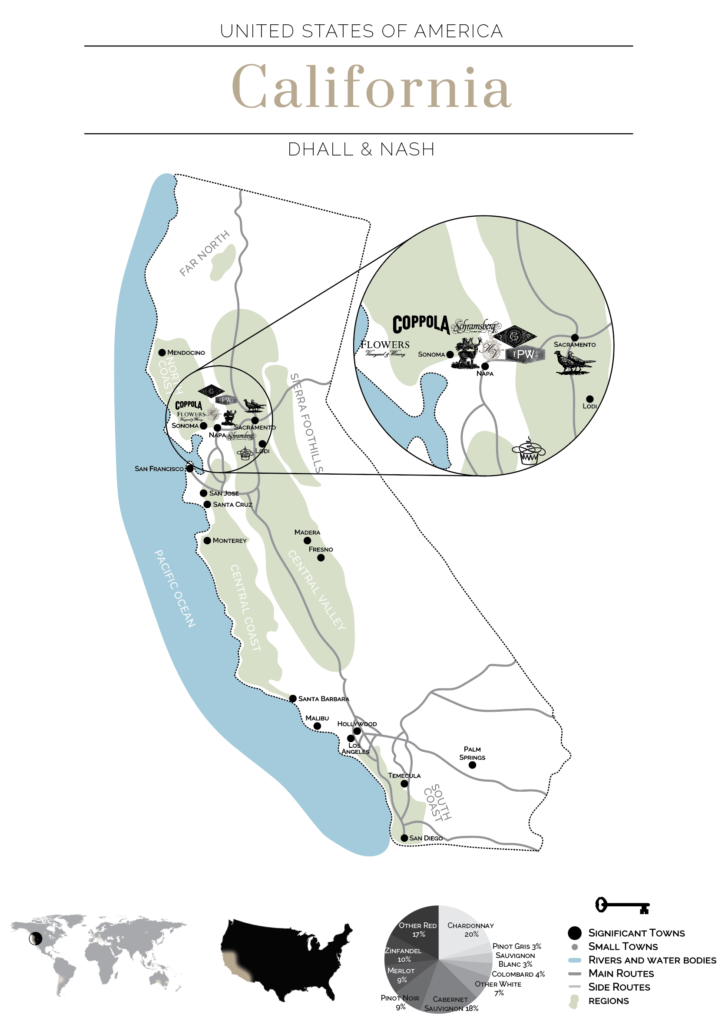 If California was a country, it would be the fourth largest producer of wine in the world. The history of wine in this American state goes back over 200 years, though it is still young in comparison to Europe for the new world. Grapes originally came to California via Mexico by the way of the Franciscan Padres as they built a series of missions along El Camino Real (US 101). This surge increased with the gold rush in 1849. The influx of European settlers scouring the land for gold eventually looked to the Mediterranean climate to bring in more consistent incomes. This, tied in with the veritable cornucopia of climatic sub-regions, has allowed for grapes of many different varieties to flourish.
The major sub-regions are; Sonoma, Napa, Lake & Mendocino, Bay Area, Monterey & Benito, San Luis, Santa Barbara, Southern California, Central Valley and the Sierra Foothills.
The majority of early plantings took place in Sonoma and Napa, and both now boast over 150 years of wine history, meaning they are littered with stunning stone cellars and commendable architecture.
California climatically resembles the Mediterranean, meaning there is a large diurnal differentiation between day and night temperatures, and the majority of planted regions are either exposed to a marine element or at least some form of evening cool. With this being taken into account, grapes with a higher acidity level (Pinot Noir, Riesling, Sauvignon Blanc etc.) are found closer to the coast and the hardier varieties, (Cabernet Sauvignon, Zinfandel etc.) are found up in the hills.
To learn more about this diverse and stunning wine region, click here.