Monday 18th June 2018
Domaine Testut, Chablis with Cyril Testut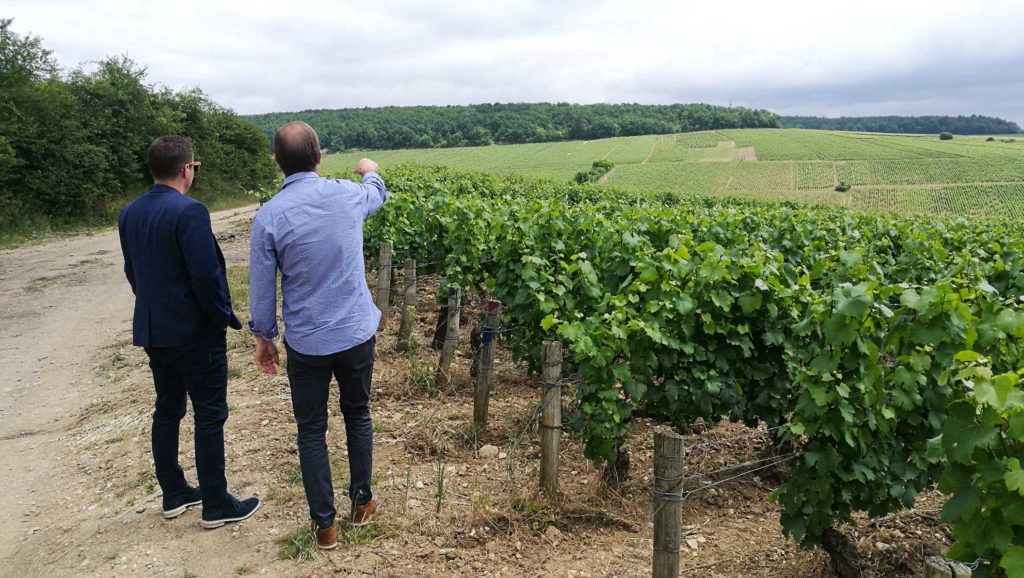 Brandon and I drive into Chablis on Monday morning. All of the houses are literally situated on two or three streets in a remarkably small village given its international acclaim.
Domaine Testut is at the end of the street in the corner. We walk through the small stone gate entrance into a small magic garden. We are greeted by Marie Testut and taken upstairs in this beautiful house to the small tasting room, where we are greeted by Cyril Testut. As Cyril takes us for a tour he tells us that his father started the Domaine in 1967. However, the family made a decision to move to Lirac in the Rhone Valley not long after that. Cyril returned in 1998 to Chablis to make his first label under the name Cyril Testut.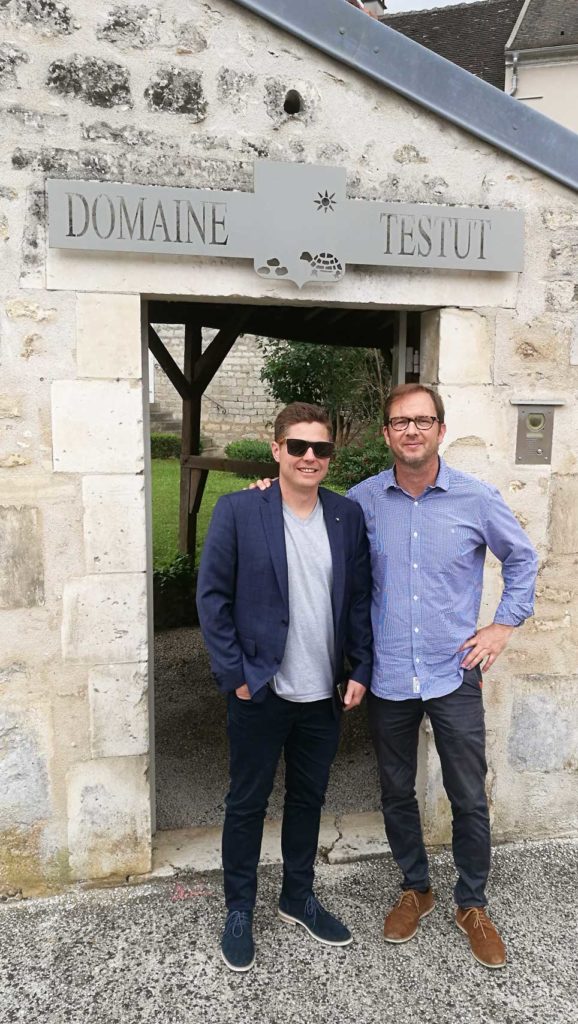 Cyril provides us with a master class on Chablis – Brandon and I taste and listen and feel the magic laying upon us. After the tasting Cyril takes us to the look out at the top of the hills where we can see the whole of Chablis laid out for us like a map from the most beautiful spot. It is the prettiest region and one can take in the whole region from one view point.
The region, like most of France, has suffered from 3 tough vintages in a row – 2015 hail, 2016 hail and frost, 2017 frost and dry soil.
We try:
2017 Rive Droite (also known as Chablis Vielle Vignes): Fresh beautiful texture, so drinkable, sea shells – good balance between soil and maturity. – Puneet
Old vines 50-55 years – 7ha. Facing West between Monte Tonee and Blachort. It is the most mineral part of Chablis.
2017 Vaillons 1er Cru (left bank):  Hints of sweet fruit/toastier, sublime, soft and silky, fresh. – Puneet
70 year vines.

2015 Vaillons 1er Cru: White toffee, beautiful honey notes and stone fruit with a gentle texture. This is a remarkable example of how Chablis sings as it ages. – Puneet
2016 Vaillons: A 'Classic' vintage of Chablis. Concentrated elegant, powerful, graceful. Sweet fruit and green apple, hints of marmalade. – Puneet
2016 Montee de Tonerre 1er Cru: Bigger, bolder, toastier. Still slightly closed, needs 2-3 more years. Can see this developing into beautiful body feel and limestone characters. – Puneet
2015 Forets 1er Cru: Beautiful texture and weight, silky, chalky, vinified in big varrels. Beautiful taste and structure. – Puneet
Southwest slope – 1,000 bottles. Very small 80 yr vines. In between Montee de Tonerre and Vaillons. Must wait at least 2 years after bottling before approaching this wine.

2012 Grenouille Grand Cru: Aromatic, fresh, mineral, silky, texture, strength, hint of menthol, wonderful. – Puneet
Cyril owns the Genouille at the top of the hill. The co-ops own the vines further down the hill.

2013 Grenouille Grand Cru: A botrytis year of rain, sun, rain, sun. Not a classic year but very rich, large, sweet and decadent. Spice – Puneet
2014 Grenouille Grand Cru: Classic, mineral, fresh, grassy. – Puneet
2015 Grenouille Grand Cru: White flowers, sweet fruit – wow. Still needs at least another year. – Puneet
2010 Rive Droite: Concentrated, honey, fresh, beautiful, simple, exceptional – age only makes these wines sing more. – Puneet
---
Lunch Au Fil du Zinc, Chablis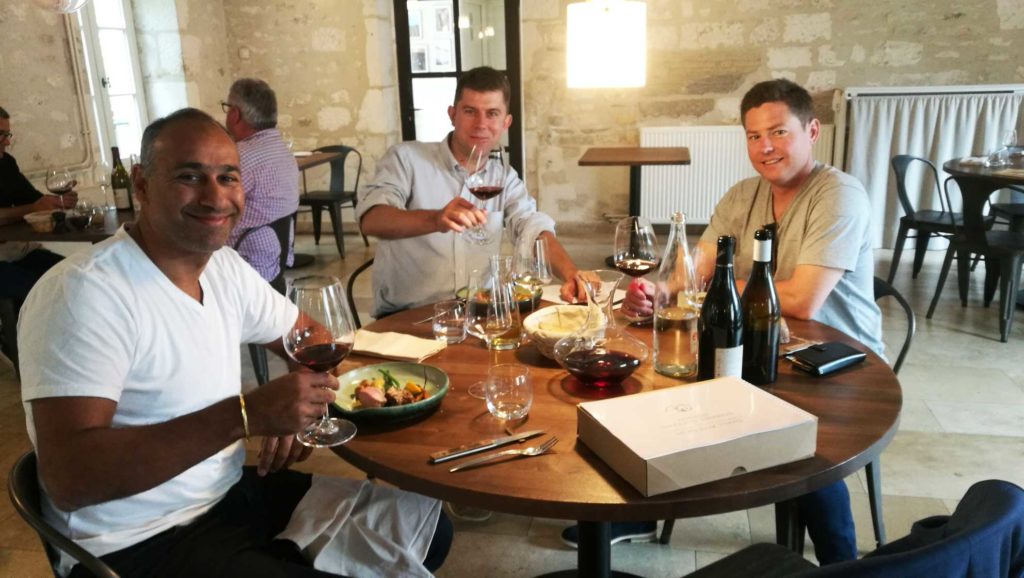 We walk down the street to Au Fil du Zinc. A small river runs right through and under the restaurant – only in France! It is white asparagus season, and we take to a 5 course gastronomique – switching between a Chablis Sechet 1er Cru Lieux dit from Jean Collet (a magnificent parcel within Vaillons) and an incredible red Burgundy village from Sylvain Pataille. Incredible energy and vibrancy. We visit him later on in the trip and meet one of the hot stars of Burgundy today.
---
Domaine Jean Collet et Fils, Chablis with Romain Collet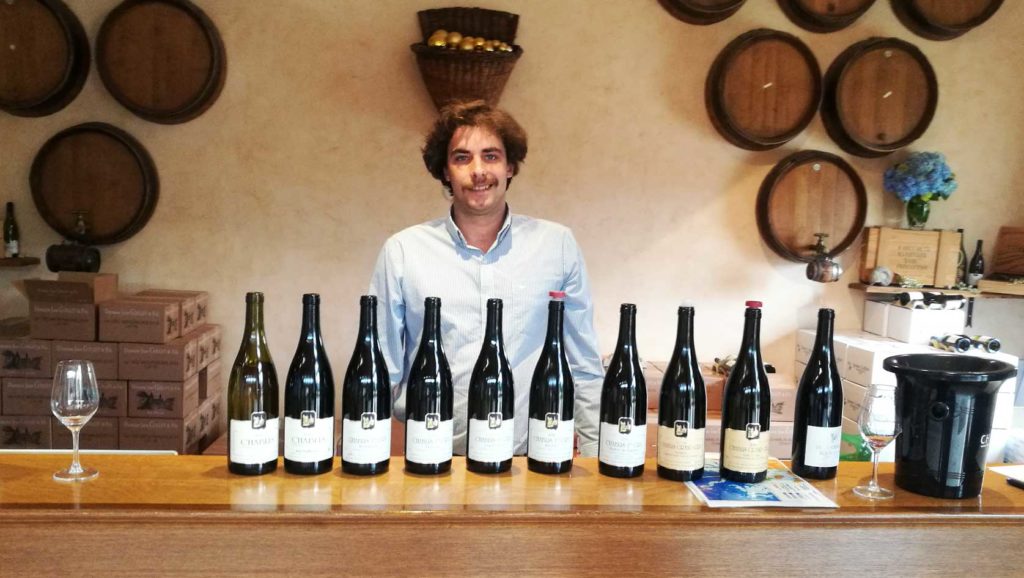 Puneet visited Jean Collet whilst Brandon headed over to Christian Moreau. The son Romain has taken over the family Domaine. The production and number of vineyards is quite a bit larger than that of Domaine Testut. Romain is still youthful and using his family knowledge combined with modern winemaking techniques to produce the best possible wines that he can – all natural yeast. You begin to see how the generations pass over the mantle from one to the next. It is never easy in the first few years of coming into the charge of the Domaine – it is very much a transition. Romain's first vintage was 2008 – a very classical vintage. In the case of Collet, the Domaine dates back to 1792.
The wines Puneet tried:
2016 Chablis: (20ha) Fresh, not classic style, slightly toasty nose.
2016 Les Truffieres (North West): (2ha) Fresh, textural, sweet fruit.
2017 Montmains 1er Cru: Large fruit expression, a little tart, again good texture.
100% stainless steel on a South west slope.

2016 Vaillons 1er Cru: Concentrated, charred aubergine, balanced, textured.
2016 Les Forets 1er Cru: Organic, concrete egg and cigar barrel. Classic style, mineral, fatty, good palate.
2016 Sechets (inside Vaillons): Good minerality, spice, complex, fatty, concentrated, large.
Organic 30% New oak, 70% stainless.

2016 Montee de Tonnerre: Powerful, oak driven, fresh, mineral.
3ha. 100% barrel (5% new oak).

2016 Valmur Grand Cru: More subtle, silky, more savoury.
2016 Les Clos Grand Cru: (0.16ha) Very good, sublime, full of flowers and perfume, balanced, mineral, silky, rocky, strong.
---
Domaine Hubert Lignier, Burgundy, Morey St Denis with Laurent Lignier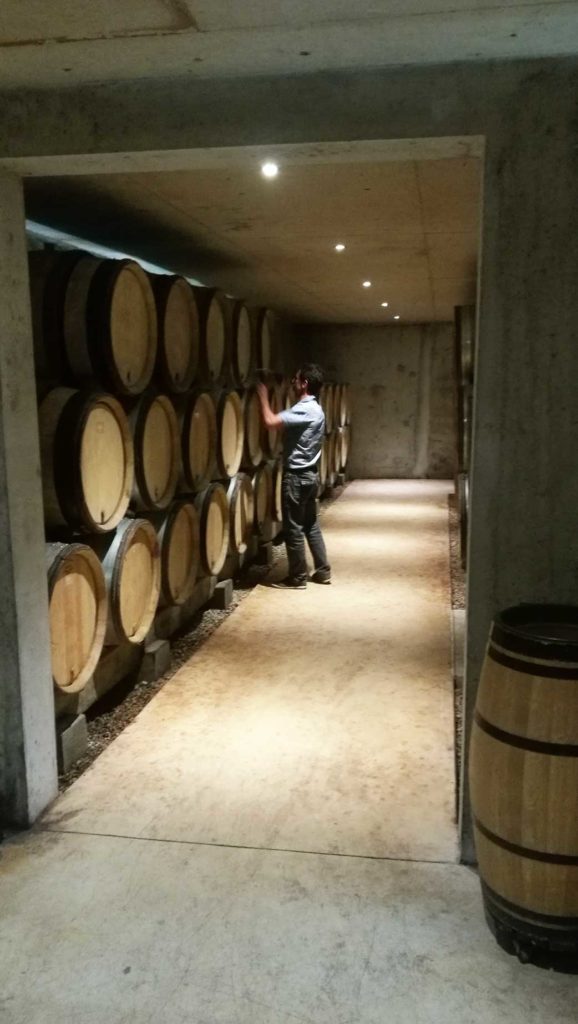 Brandon and I depart Chablis and one and a half hours later enter Burgundy into the Cotes de Nuits. Our first stop is legend Hubert Lignier based in Morey St Denis. The house is on the main road at the bottom of the village slopes. A narrow gate into a graveled yard with 6 or 7 adults intent on a game of boules in the late afternoon sunshine. The game was in the carpark – we had to wait a few minutes for the round to end. Nothing interrupts a serious game of boules in the french countryside.
The current custodian Laurent Lignier meets us with his barrel knife to hand. He is wiry and has a gentle soul. We descend into the Cellar and another master class ensues. When you taste with these Masters you feel the immense connection between them and the land that they speak of. The wines are not fined or filtered and all transferred by gravity. Minimal intervention is the key. Even though the 2016's are exceptional low volume, Laurent shows us samples from barrel of the 2016's which are practically ready for bottling:
2016 Chambolle Musigny Vielle Vignes: Bright red fruit, beautiful. – Puneet
21 months in oak.

2016 Gevrey Chambertin Seuvrees: Fruity, spicy, cloves, bright red fruit. – Puneet
Whole bunch press, 4 year old barrel.

2016 Morey St Denis 1er Cru la Girotte: Finesse and length, open on the nose, elegant tannins structure, beautiful. – Puneet
2016 Morey 1er Cru Vieilles Vignes: Incredibly silky tannins, chocolate notes. – Puneet
Planted by his grandfather, only 25hl/ha.

2016 Chambolle Musigny Les Baudes 1er Cru: (Next to Bonnes Mares) Fragrant, open, truffle, leather. Excellent. – Puneet
2016 Clos de la Roche Grand Cru: (1ha) Mossy, fragrant, beautiful, years and years for this. – Puneet
2012 Morey St Denis la Girotte 1er Cru: Reddy brown translucent colour, floral, more complex wine, schist and stone, savoury, an amazing swirl of flavour. – Puneet