California Day 4 – St Helena to Geyserville
The day begins at Coppola – Dhall and Nash's first winery from California.
It's busy – memorabilia meets wine. But similar to Bogle, literally behind all the glitz is a 2 million bottle a year operation – Coppola is now the 12th largest wine producer in America, and of course privately owned by Francis Ford Coppola. His aura is everywhere, from his wines and film memorabilia to his favourite dishes on the restaurant menu.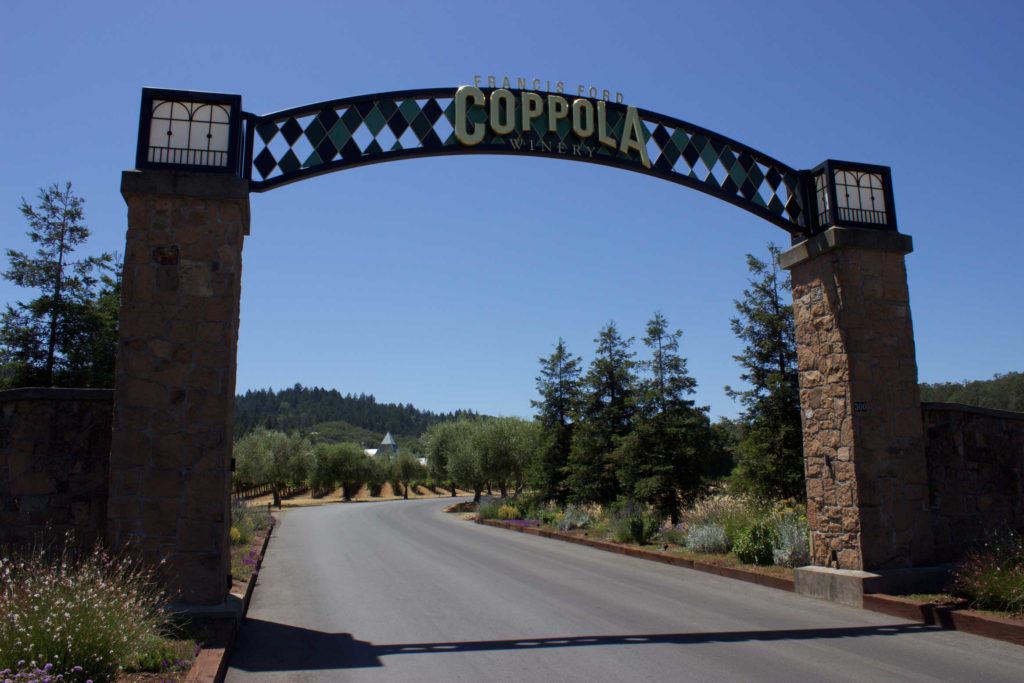 Emily and Amy meet me and we taste some wines from the large range…
14 Votre Sante Chardonnay – Large mid palate – cream and then more cream.
15 Rosso & Bianco Cabernet Sauvignon – A hint of eucalyptus, some stalk but not displeasing.
13 Elanor – Petite Syrah / Zinfandel – Lovely aromatics – blue black fruit and spice.
13 Archimedes – 80% Cabernet Sauvignon / 10% Cabernet Franc / 10% Merlot from Alexander Valley. 21 months in new French oak. Lovely tannins – a sign of good Cabernet here – not too soft – still grainy but ripe and integrated.
15 Diamond Claret – I find the eucalyptus again – red fruit – more aggressive tannin.
Excited to be hosting Emily in New Zealand again sometime between June and August, and also to have their consent to start trading Coppola in Australia.
In the afternoon we visit Spottswoode – what a joy.
10,000 cases a year produced vinified off of 28 blocks in one site in St Helena. We meet MaryPat and also the owner Beth. Beth's mother and father had upped sticks and moved to St Helena from Southern California in 1972. Beth's father was a Doctor and wanted to have a house for his five children somewhere rural where he could work a tractor. In 1972 The valley was much more rural and still not focused on wine growing – many other crops were grown including walnuts and prunes. In1975, Beth's father died unexpectedly aged just 44. Beth's mother Mary was left with 5 children and a ship to run – For a few years, Mary sold their fruit to prominent vineyards to survive. In 1978, Mary's friends the Duckhorn family and the Schafer family told her that the Estate Cabernet was just too good, and they encouraged to bottle under Spotswoode and join them in a similar adventure. Following this their early winemaker Tony Soter (now in Oregon and with high acclaim) encouraged the estate to go organic in 1985. As you can imagine, this was quite a big step at that time. People who went organic were seen as crazy.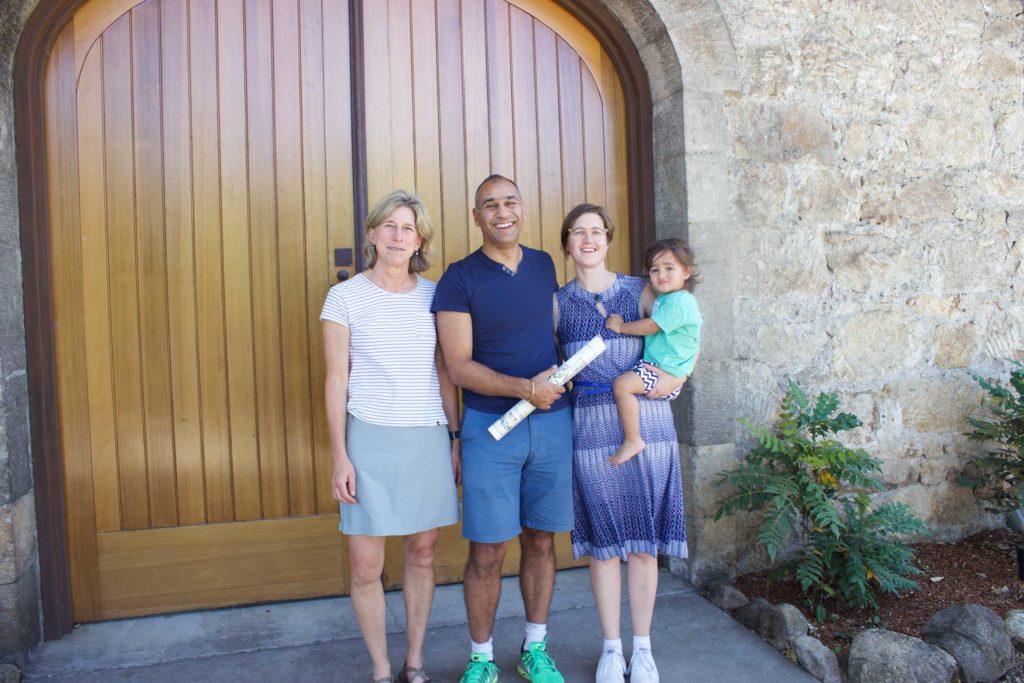 I tasted the wines as Beth regaled this story to me,
2016 Spottswoode Sauvignon Blanc
Fermented 60% stainless steel / 35% new and used oak and 5% concrete
Bloody nice – a rockiness to the wine that I really like together with a 'leesy' texture and good acid
2014 Lydenhurst Cabernet Sauvignon
Before the estate was owned by the Spotswoode family, it was owned by the Lyndenhurst family 100+ years ago. 20 months French oak (40% new) 90% cabernet sauvignon, 3% Cabernet Franc, 3% Petit Verdot, 2% Malbec, 2%merlot
Oh so yummy and approachable.blueberries, blackcurrants, cassis, leather, fireplace ash, ripe powdery tannins (now when I taste a good cabernet, the tannins are ripe and integrated with a fresh palate – no coarseness whatsoever, regardless of youth) – just exceptional – nothing at all like this in New Zealand.
2014 Spottswoode Estate Cabernet Sauvignon
100% French oak (60% new) – aged 20 months 86% Cabernet Sauvignon, 10% Cabernet Franc, 4% Petit Verdot
Oh wow! First of all, cellar this! great tannins, oh so fresh, beautiful fruit – incredible integration between fruit and secondary characters – as if they are one – jeepers this is so good.
Later that night, we are gifted with a bottle of 2013 Duckhorn Cabernet Sauvignon. Can a day get any better! We get Taj to sleep – room service! The special of the house truffle chicken – 2 hour cook time. I crack open the Duckhorn – all I can say is – yes it is that good!
Tomorrow we head to Spring Mountain to visit Schweiger – and to the West Coast and visit Flowers