California Day 5 – Napa to Sonoma Coast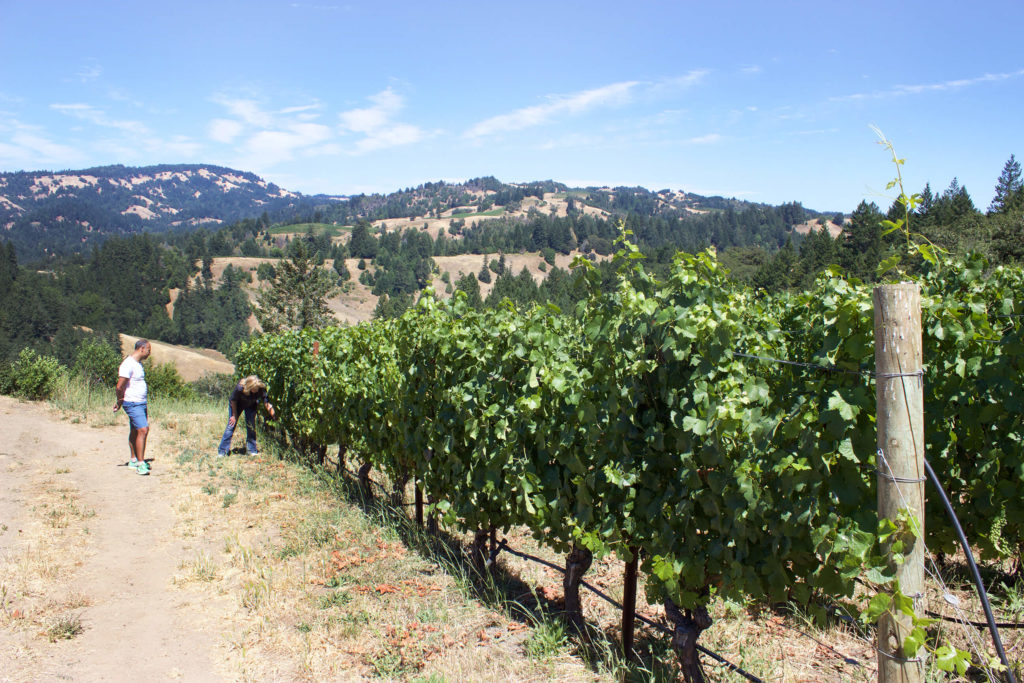 A great drive from Napa to Sonoma Coast through such A.V.A's as Alexander Valley and Russian River. The drive along the Sonoma Coast is quite awesome, with the eerie mist swirling around you, next to steep drops to the sea. We arrive at Fort Ross on the Sonoma Coast, make our way up Timber Cove Road and into Seaview Rd (Flowers is at No.14500 Seaview Rd). As if by magic we pop out of the Ocean Mist. Immediately the sun and temperature hit us.
It's quite impressive, The vineyard sits on either side of a canyon which is literally the San Andreas fault line. The soils are multiple including a lot of soil similar to Burgundy – Volcanic Schist, but also red iron/clay. The steep hills are not terraced but instead close planted straight down the steep slopes. The whole site is farmed Biodynamically. Every 15th row is a crop of flowers with various functions for the eco system, and multiple cover crops. The site we have come to is the Camp Meeting Ridge site – 35 acres, elevation 1,400 feet. The Sea View Ridge is about 10km south and can be seen in the distance from Camp Meeting Ridge.
We walk onto the back deck of the house for the tasting, and what an incredible view.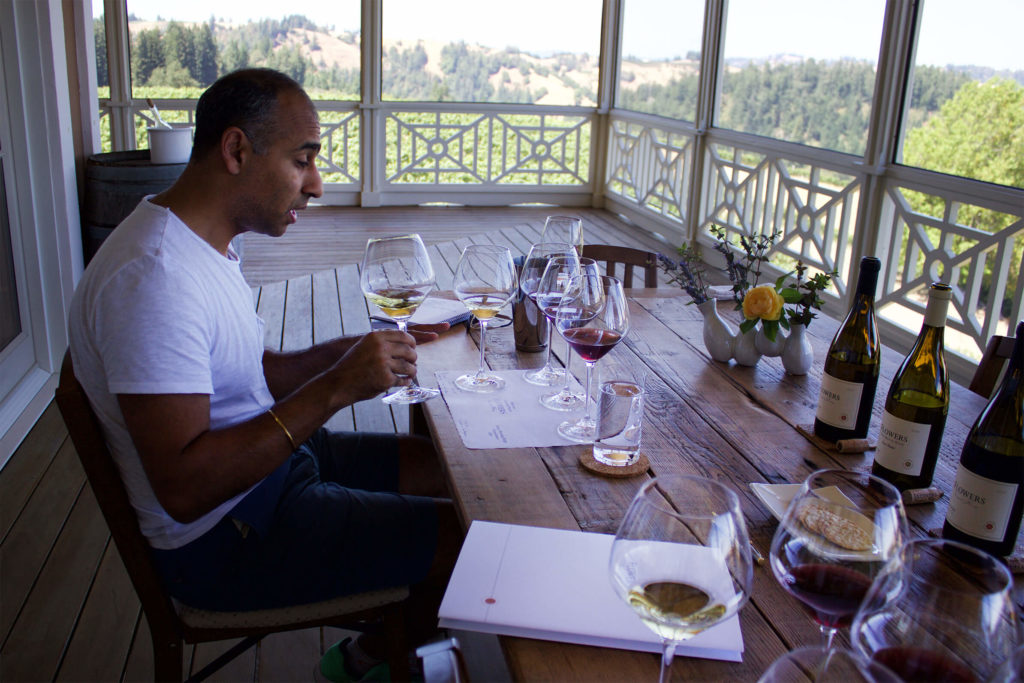 2016 Sonoma Coast Rosé
Provencal style  – light onion skin, well balanced, light red and raspberry fruits, gentle vanilla touch of spice – very good.
2015 Sonoma Coast Chardonnay
9-11 months oak – hints of wet stone and shortbread – citrus and stone fruits – some hazelnut and light toast – delicious.
2014 Camp Meeting Ridge Chardonnay
19 months oak – 1,000 cases per year – more fatty creme brûlée – second half shows the classic sea salt mineral oyster shell aspect – exceptional.
2015 Sonoma Coast Pinot Noir
Distinct mossy character – clean red fruit ripe and integrated tannins – seamless – strong pinot noir typicity.
2014 Camp Meeting Ridge Pinot Noir
Beautiful warm brown earth notes, exceptional fragrance and perfumed notes – which takes this into Premier Cru + territory.
2014 Seaview Ridge Pinot noir
Meatier – took a while for the nose to open up, also more acidity – bigger all round – concentrated red fruits. Will please those Otago Pinot lovers. (The vineyard is higher elevation and iron rich).
That evening I revisit the 2013 Hirsch Chardonnay – clearly a cult wine here, almost the younger protegé of Flowers (although the two vineyards are not connected in any way). It is expensive – but quite possibly even more Burgundian in style than Flowers. It is not quite as fatty as flowers and the palate broadens out as you taste – with more mineral and saline elements. Anyway, I managed to finish a bottle of it, and then thought I saw the coming of the New Messiah as the sun set over the Pacific – so it must be quite good.
THE END OF THIS CALIFORNIA WINE EXPERIENCE