Tuesday 19th June 2018
Domaine Fabien Coche, Burgundy, Meursault with Fabien Coche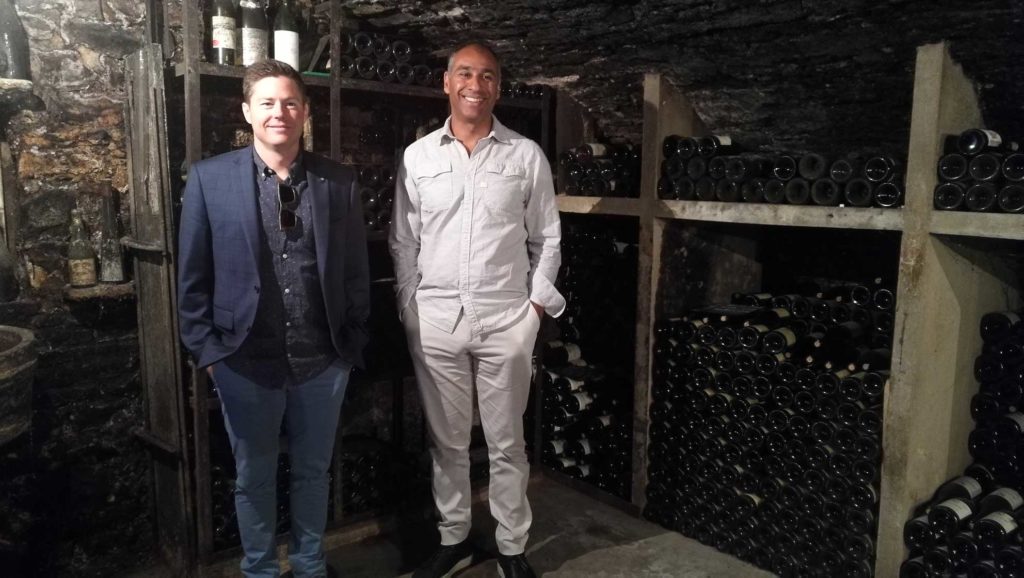 A lovely summer's morning and a drive to Meursault, a medium sized village, extremely lovely, a lot of yellow and cream buildings with the multi coloured thatched roofs. Fabien Coche is son of Alain Coche who is the cousin of the famed Jean-Francois Coche-Drury. It seems that when it comes to the new generation, Fabien is the one making waves in the Coche family. The side of the Coche family were barrel makers in the 1930's and moved into selling bottles in the 1940's, at which point Fabien's Grandfather got into the game.
We tried:
2015 Cotes de Bourginon: Gentle, lovely fruit expression, balanced and fresh. – Puneet
100% Chardonnay from Auxey Duresses.

2015 Bourgogne Blanc: Finesse, gentle and powerful, washes over with lovely freshness and balance. Textures woven into one. – Puneet
A blend of 3 parcels from Meursault. 20% new oak.

2015 St Romain Sous la Veille (Liex Dit): More aromatic, more toast, delicious, fruit mixed with cream and again woven so seamlessly as if one flavour all the way. – Puneet
18 Months oak barrel.

2015 Meursault Goute D'or 1er Cru: Amazing, nutty, toasty, but so elegant. Viscosity, cream, length that goes on. – Puneet
2015 Auxey Duresses Rouge: Open, red, mineral, stony, red fruit, big mid palate, happy wine, light toast, some moss. – Puneet
2015 Meursault Rouge: Mossy, earthy, full body, some evident tannins, raspberry, ripe.
2016 Bourgogne Blanc: Just bottled – good aroma, sweet fruit and gentle toast. Good mineral, fresh, not bold, elegant, good acid. – Puneet
2016 Auxey Duresses: Linear, mineral, hint of spice, less toast. – Puneet
2016 Meursault le Chevaliers: Lovely nose, damp oak, white chocolate, fresh, pure, elegant, so integrated, finesse. Very good. – Puneet
2016 Meursault Villages: Toasted, more obvious and nutty, fruity body, generous open and fresh.
---
Domaine Jean Marc Millot, Burgundy, Nuits St Georges with Alex Millot
We walk down a long alley in a back road of Nuits St George to a newer wooden building. We meet the rotund and happy father Jean Marc Millot, and his daughter, Alex, who is now in charge of the Domaine. Brandon spends a while telling everyone how Alex looks like his sister in law and a bunch of pictures are taken. As usual we descend to the cellar, Alex armed with wine knife, portable spitoon and local regional map.
2017 Bourgogne Rouge: Gravely, dusty, earthy, vibrant, good energy. – Puneet
From Comblachiets.

2017 Savigny Les Beaune: Aromatic, open, lots of red fruit, smooth and pleasant tannin. – Puneet
3 plots 0.88ha, 12 barrels.

2017 Cotes de Nuits: Mushroom, moss, red fruit, wide open palate leading to savoury and herbal finish. – Puneet
4 plots old vines.

2017 Cotes de Nuits Aux Faugeres: Truffle, meat, elegant, bright, rounded, fresh. – Puneet
1.8ha.

2017 Vosne Romanee Villages: Stone, slate, mineral, fresh, moreish. – Puneet
2 plots 5 barrels.

2017 Vosne Romanee Les Suchots 1er Cru: Young, slate, toast, layered. – Puneet
2017 Clos de Vougeot Grand Cru: Roasted, light grill to charcoal, rosemary, lovely palate. – Puneet
2017 Echezeaux Grand Cru: Rocky, integrated red and black fruit, textured and tannins. – Puneet
3 parcels.

2017 Grands Echezeaux Grand Cru: Large nose of red and black fruits, toasted, very balanced. – Puneet
---
Domaine JJ Confuron, Burgundy, Nuits St Georges with Laurie Confuron
Another changing of the guard as we meet Laurie who has taken on the honour of running the Domaine from his mother and father. With the younger guys, we find that most of them have visited New Zealand, and we often have friends in common. I also notice how they take the responsibility of running the Domaine with seriousness, intellect and with a youthful touch. We listen to Laurie as intently as anyone – after all these guys have been running around these barrel halls and vineyards since the day they found their feet. It is without a doubt in their blood.
---
Domaine Georges Comte de Vogue, Burgundy, Chambolle Musigny with Francois Millet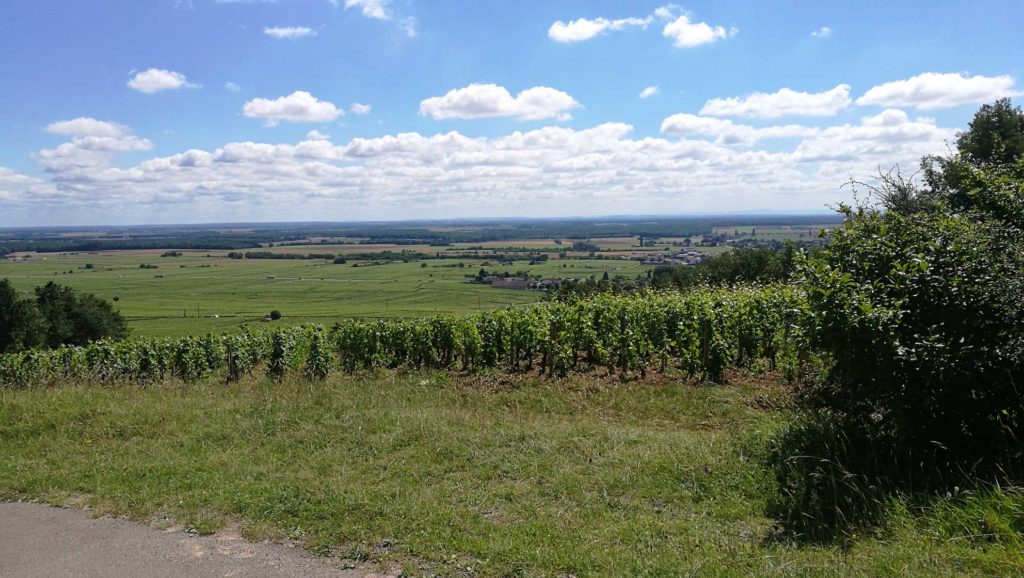 We drive to Chambolle Musigny. Several times over the past few days we have had to pinch ourselves that we have actually arranged this appointment. New Zealand legend Alan Brady (founder of Gibbston Valley, Felton Road) was so kind to arrange an introduction with winemaker and legend Francois Millet of Domaine Georges Comte de Vogue (one of the greatest ever Burgundy Domaines). We park on the narrow lane towards the top of the village with the hills above us. The sun is shining. We walk through the arch into the courtyard. We feel the silence – not deathly, but hallowed – monastic. Birds still flutter through the courtyard, but in silence. A girl walks silently through the courtyard. Life definitely abounds, the air smells super fresh. Brandon and I make our way to a glass door behind which is the office of Francois Millet. We knock and enter.
"Je m'appelle Brandon et Je m'appelle Puneet et Nous travaillons pour Dhall and Nash en Nouvelle Zealand… We would like to deepen our understanding of Burgundy and go to the next level."
After a moment of silence, Francois draws a measured breath and replies,
"…Well you have come to the right place."
Francois gathers a small wicker basket, just large enough for four wine glasses and his wine thief. We walk through the courtyard, into the Cellar. Not many barrels, but Brandon and I know we are standing by some of the most rare and sought after wine on the planet. Tastings like this are extremely rare, and you have to earn it. We taste 5 of the best red wines on Earth in a row from barrel. Francois talks and we listen. This is not a masterclass, it is something else. It is a Guru with his disciples. Francois with his decades of experience, built on centuries of experience of previous cellar masters, does not communicate in a way we are used to. He moves beyond technical into the metaphysical. The few hectares of hills upon which his Grand cru vineyards sit are more than land and sun and vines, they are spiritual embodiments, and he has the ability to listen and bond with his terroir. It is all alive and the wines themselves are alive, and he is together with them. We finish the tasting and walk out of the Cellar into the bright warm sunlight, as if we have just stepped off of Venus back onto Earth. Brandon and I shared an experience with Francois that we will never forget, and we will be forever grateful. That day we moved up onto a higher plane of wine appreciation and general intellect – our souls were moved by the simplicity and the greatness. We did not talk for quite some time.
2017 Chambolle Musigny Village: Incredible, bright, some coffee, plenty of red fruits. – Puneet
Francois explains that the Cote de Nuits follow a geographically linear line from North to South. Sites further up the hill show more ethereal qualities and less depth. At the bottom of the hill soils are deep and the limestone is further down. The Grand Cru and Permier Cru are all mid slope.
2017 Chambolle Musigny 1er Cru: Deep, savoury, brooding, sensational, balanced, long length. – Puneet
Age for 10-25 years.
2017 Chambolle Musigny les Amourouses 1er Cru: Bursting with violets, deep plum and fruit, mineral with incredible length, finesse and elegance. Remarkable. – Puneet
0.5ha at the top of the site (Grand Cru in everything by name).
2017 Bonnes Mares Grand Cru: We are deep in the forest, big volume and density, blueberries and fresh moss, brightness. Sensational.
2017 Musigny Vieilles Vignes Grand Cru: A blast of aroma and minerality, spice, red fruits. Still so much more to give over decades. – Puneet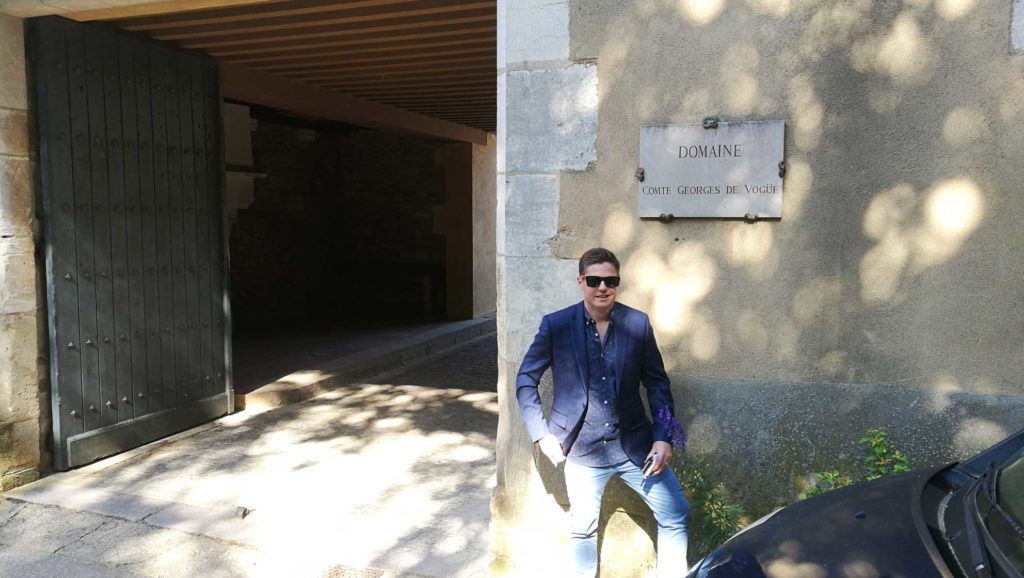 ---
Domaine Chevillon-Chezeaux, Burgundy, Nuits St George with Phillipe Chevilllon
After Comte de Vogue in the late afternoon sun, we are greeted by Phillipe Chevillon at his cellar in Nuits St George. We like him instantly – a large, strong chap with a hearty smile and virtually no English. He proceeds to talk to us in rapid french. By the time we leave we know everything about Nuits St George. The vineyards to the South being more spicy and earthy and the vineyards to the North picking up the more elegant bright, red fruit characters of Vosne Romanee. We all also agree the Nuits St George Les St George is definitely another 1er Cru that should/could be a Grand Cru.
---
Dinner Castel de Tres Girard, Morey St Denis
We sit down in the evening sun on the patio of Morey St Denis in Morey St Denis. In hommage to the village and our first memorable visit, we buy a 2008 Hubert Lignier Morey St Denis 1er Cru (I forget which one now!) We decanted, the first glass was closed and then after half an hour or so, the wine started opening up to its florals and spice and red fruit that we know so well – still young.
We have an exceptional meal and soak in village life in France – although as far as villages go, this is more on the sophisticated end of the spectrum.