Thursday 21st June 2018
Domaine Thibault Liger-Belair, Burgundy, Nuits-Saint-Georges with Thibault Liger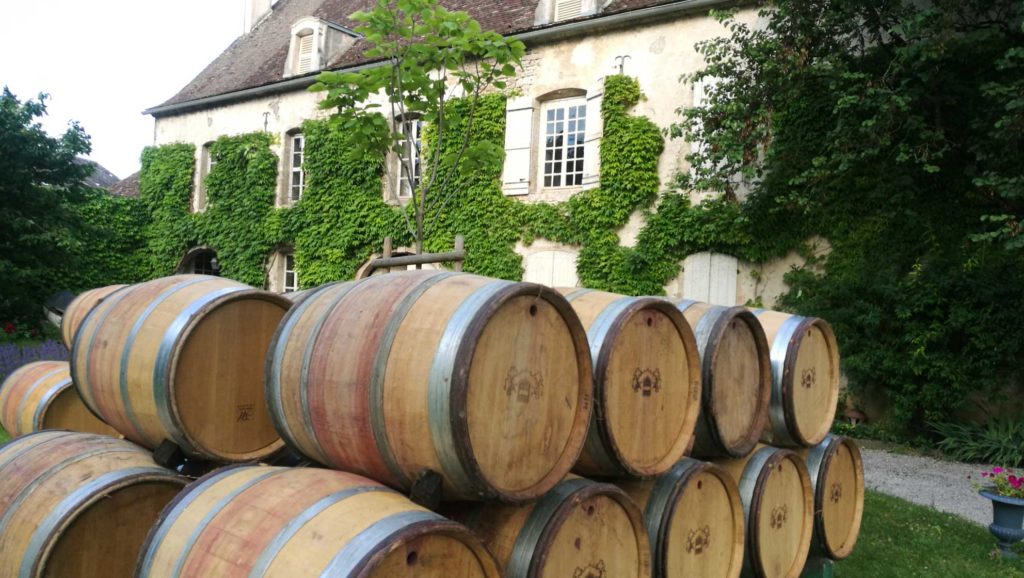 Another beautiful morning and Brandon and I walk into another magnificent Domaine – a beautiful ivy clad house, just perfect for anything. We walk around the back to the cellar. Thibault is pouring samples from down below. He speaks perfect English and comes up to greet us. The Domaine houses some Grand Cru wines, but there is a new site where we will taste. We drive a few minutes to the most modern site we have seen in Burgundy. We then realise that Thibault is an incredible blend of the old and new and a fascinating character, respected by all. He shows us around the facility – proud and knowledgeable, he shows us solar panels, water reclamation and energy efficiency devices everywhere. The Domaine has been organic and biodynamic since 2001.
2017 Moulin à Vent Les Ruchots Beaujolais:  Lovely fruit and spice, rounded body, medium concentration, fleshy.
Sand and granite soil, 40% whole cluster. 2m of soil.

2017 Moulin à Vent Vieille Vignes Beaujolais: Slate, dusty, bright, energetic. Violets, vibrant, plush and soft with plenty of years more in this one. – Puneet
2017 Moulin à Vent la Roche Beaujolais: Dust and mineral, textural and sophisticated with superb length. – Puneet
No soil, just rock.

2017 Bourgogne Les Grands Chaillots: Spice, red fruits, fresh and strong. – Puneet
1ha Chambolle musigny 1er cru. 2ha Chambolle Musigny.

2017 Haute Côtes de Nuits Clos de Prix: More fruit and softer tannin, limestone, pebbles. – Puneet
2017 Chambolle Musigny Village: Red fruit, lighter spice, bright and fleshy. – Puneet
Blend of 5 Lieux Dits. 40% whole cluster.

2017 Nuits St Georges Les Charmots: Mushroom, fresh, energy, funky. – Puneet
Big clay with a mix of limestone soils.

2017 Gevrey-Chambertin Les Croix Deschamps: Toasty, grilled meat, blue fruit, earthy. – Puneet
2017 Vosne Romanee Aux Reales: Lots of limestone in this soil. Very aromatic, stony, mineral, lovely tannins.
2017 Chambolle Musigny Les Griotte: Spice, red fruit, lovely body and structure, more velvet. – Puneet
Just below Bonnes Mares.

2017 Charmes Chambertin Aux Charmes: An explosion of perfume and aroma, red and blue fruit, texture and body. – Puneet
Very high vineyards. 70% whole cluster (cut at the stem).

2017 Clos de Vougeot: More spice, earthy, more secondary characters. – Puneet
2017 Nuits St Georges, Les St Georges: Forest floor, truffle, calcite. – Puneet
2017 Richebourg Grand Cru: Very complex soil. Deeper, great complexity, incredible length. So so young. – Puneet
2017 Bourgogne Aligote Des Combes: Fruit driven, bitter aromatic, fleshy. Very nice and refreshrefreshing. – Puneet
---
Domaine Dujac, Burgundy, Chambolle Musigny with Alec Seysses
We walk down into the cellar to a group tasting with some Americans, Italians and Chinese. Alec has taken over the Domaine from his father. He is incredibly confident and respectful of his Domaine, and very knowledgeable of its history.
2017 Les Folatieres Blanc: Nutty aromas, beautiful integration of oak. Cream and stone fruit. – Puneet
2016 Morey Village: Cardamom, mineral and fruit. – Puneet
90% whole cluster.

2016 Gevrey-Chambertin Les Combottes: Toastier, earthier, open, red fruits towards blue, generous. – Puneet
2016 Vosne Romanee 1er Cru Malcansort: Aromatic, fragrant, powerful, gorgeous texture, spicy tannin, elegant, length. – Puneet
2016 Clos de la Roche Grand Cru: Bigger and spicier. Coffee, licorice, powerful, limestone, mineral, clean. – Puneet
1996 Clos de la Roche Grand Cru: Red/brown colour. Gentler spice, toffee notes. Blending of flavours, gentle spice, silky graininess – delicious.
---
Domaine Bertagna, Burgundy, Vougeot with Eva Reh Siddle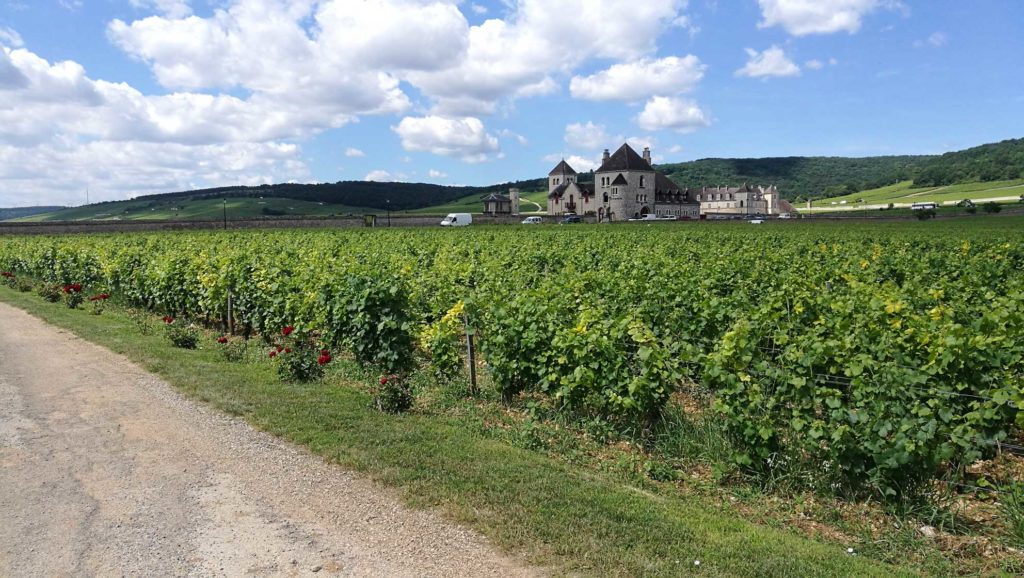 Eva Reh Siddle loves her Domaine. Nestled in the heart of Vougeot (next door to our wonderful hotel), her back gate looks at all of the greatest vineyards within touching distance. Amourouses to the right, Vougeot in front and Echezeaux to the left. Eva Reh is sophisticated and speaks her mind – maybe an element of her German heritage. It is clear that she loves the place, and that running the Domaine is a labour of love. There are 6 full time staff at the Domaine. She tells us the 2015's are closed now and need another 5-7 years. The 14's and 16's can be drunk now.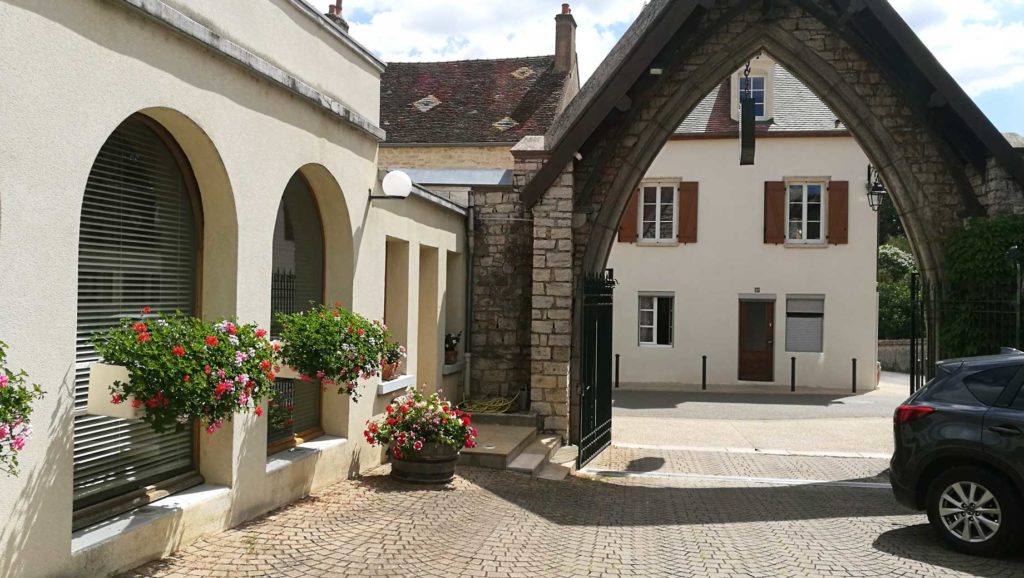 2016 Bourgogne Hautes Cotes du Nuits: Versatile, medium body, light spice, gentle. Mineral and limestone. – Puneet
50% oak, 50% stainless, 20% whole bunch.

2016 Vougeot Clos de la Perrieres 1er Cru (Monoplole): Fragrant, brown earth, lots of spice, lovely texture. Accessible now. – Puneet
2016 Vosne Romanee Les Beaumonts: Fragrant, soft, black fruit, hint of licorice, stony, pebbly.
 45 yr old vines.

2016 Nuits St Georges Les Murgers 1er Cru: Forest-like, powerful, black fruit, spice, little closed, tannin, purple fruit. – Puneet
2016 Clos St Denis Grand Cru: Hints of coffee. Elegant and graceful. – Puneet
2016 Le Corton Grand Cru Ls Grand Loliers: Truffle, gravy, violets, purple fruit, length. – Puneet
2016 Vougeot le Cras (White): Yellow stone fruit, ripe, honey suckle, white chocolate. Stony and creamy. – Puneet
Used to be Pinot Noir until 1984. In the early days of the Monastry in Vougeot the land was equal and blanc and noir. First harvest was 1988.

---
Domaine Guffens-Heynen and Domain Verget, Burgundy, Maconnais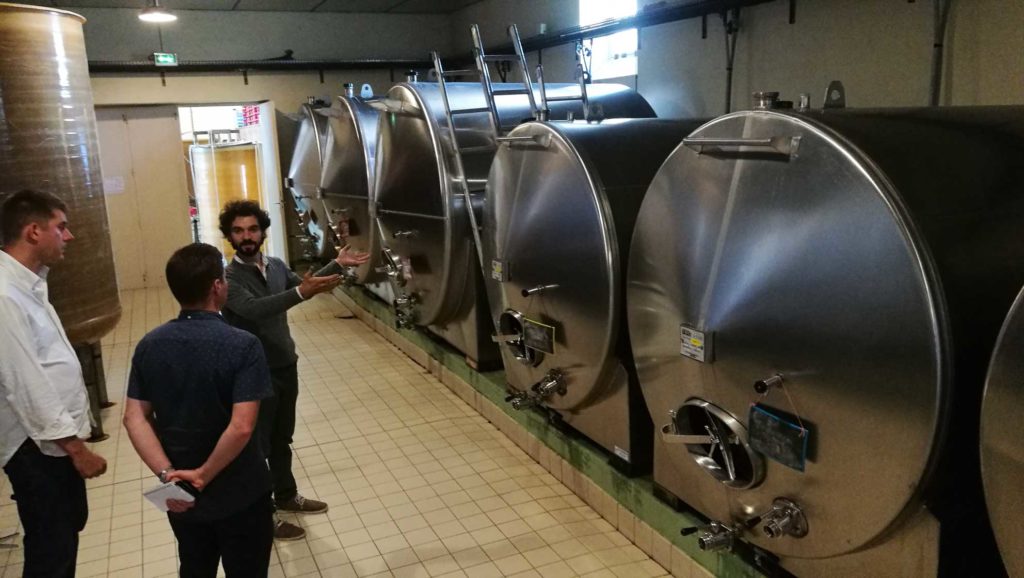 Brandon and I drive South from the Cote D'or. It is a fairly long distance to the Maconnais and in fact feels like a whole new region, even though it is still Burgundy. The hills are larger and more steep, the climate feels that touch warmer. Vineyard elevations are 200-400m. We visit two Domaines in the Macon, housed in the same winery. Guffens-Heynen is all their own vineyards and their own fruit. A total of 6ha: 1ha Pouily Fuisse, 1ha St Veran and 4ha Macon. All the fruit in Verget is bought in long term contracts with growers from the best sites. The Domaines are inspirational, technology is embraced, innovative wine methods are practiced – possibly the first in the world to use horizontal cylindrical stainless steel tanks for whites with a special lees stirring rod. The tanks increase the surface area of wine in contact with lees. There are many, many more innovations like this. We are shown around the facility by Julian who is intelligent, insightful and humble. All white wines.
2017 Verget Vins de Sud Macon: Fresh texture, zest, hint of bitterness. Nice. – Puneet
2016 Verget Vins de France: Prune juice, fresh, ripe. – Puneet
Only lees.
2017 Macon Village Grand Elevation: Ripe with huge body and lees. Nutty and creamy. – Puneet
A blend of different plots in the village.

2017 Bourgogne Grand Elevage: Ripe, large body, more length. – Puneet
2017 Macon Charnay Clos St Perriere: Good density and fruit, some spice. Lovely and integrated. – Puneet
2017 Macon Bussieres Vignes de Montbrisson: Subtle, mineral, lime, fresh. Very approachable and tasty. – Puneet
High elevation, full eastern exposure. Limestone. 70 year old vines. 20% new oak – free run juice, low yields.

2017 Vire Clesse: Pineapple, honeydew, melon. Very fruity. – Puneet
2017 St Veran Lieux Dit: Toasty, nutty, open and generous, creamy. Very good. – Puneet
2017 Pouilly Fuisse Terroirs de V: Intense, spicy nose, mineral. – Puneet
2017 Pouilly Fuisse Terroirs de F: Stony, pebbly, mineral, pleasant, open. – Puneet
From Vergison vineyards – high altitude.

2017 Pouilly Fuisse Les Combes Vieille Vignes: Mineral and toasted, generous. – Puneet
In a valley, North and South exposure.

2016 St Veran Terroirs de Davaye: Fruit driven. Less dense than the 2017 St Veran. – Puneet
2013 Guffens-Heynen Trie de Chavigne: Spicy, soft, concentrated. Very good. – Puneet
The Trie de Chavigne is the result of long harvests and the individual berries being picked at night over several weeks as each berry attains a specific ripeness.

2015 Guffens-Heynen Premier Jus de Chivigne: Beautiful palate, sweet fruit, dense, creamy, mineral. – Puneet
2013 Guffens-Heynen Pouilly Fuisse Trie des Hauts des Vignes: Big fruit, concentrated and fleshy. – Puneet
---
Domaine de Pothiers, Loire, Cote Roannaise, with Romain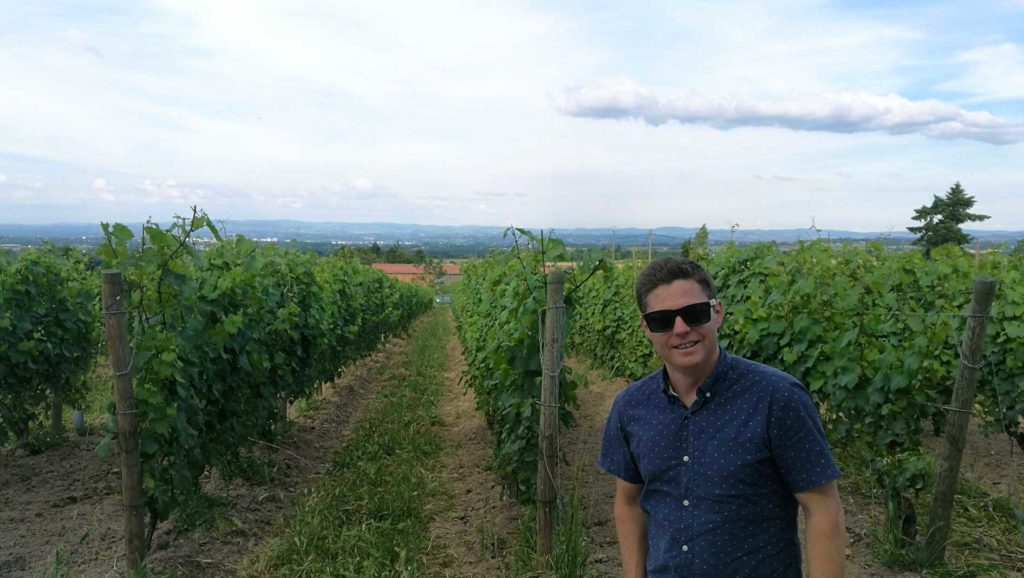 Brandon and I go off piste slightly. A long and winding drive up the hills, passing pretty villages, into practically the centre of France. We drive over the Loire river and realise that this region is actually a very far eastern point of the Loire Valley. It is intensely beautiful in a lonely far away kind of way. We feel like we can see the whole of France – North, South, East and West. The Côte Roannaise has been for wines for over a thousand years. We find the Domaine de Pothiers and the house at the end of a long driveway. An elderly gentleman stares frustratingly into the abyss of a tractor engine. We say Bonjour but he does not even know that we are there. Only the tractor matters.
A few minutes later, the owner Romain drives up the lane with another tractor. He gets straight to business and shows us around his house which is at least one thousand years old and has housed his family for as far back as records go. We jump in the car and take a tour of his land. He takes us higher and higher to his Clos. An old monastery towers over this walled vineyard. We feel as far away from civilisation as is possible but the view is amazing – just beautiful.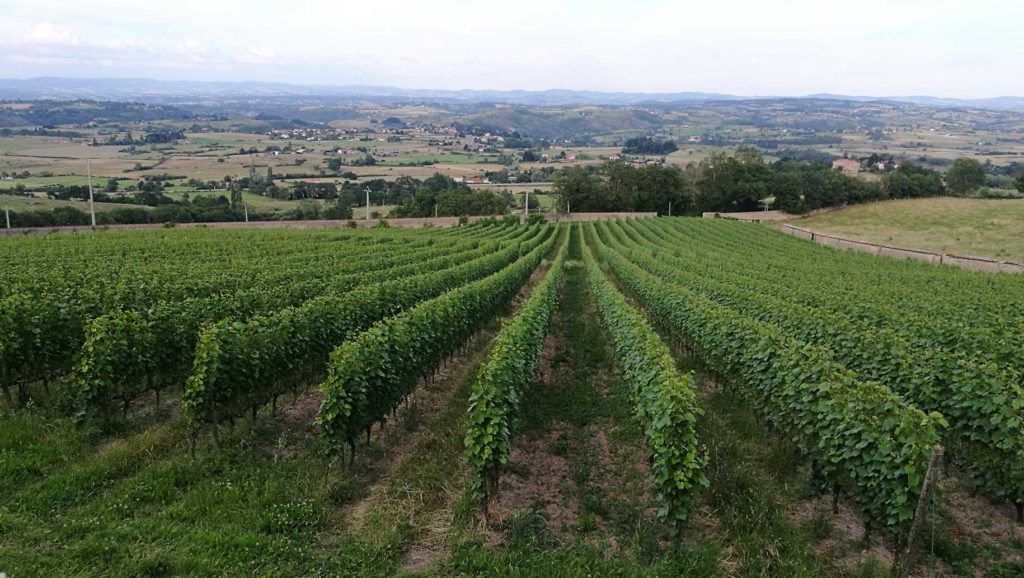 We go and see the rest of Romain's property where we meet his horse that he plows with – they are best friends. Romain is truly a man of the country, up at dawn working till dusk, doing more projects in a year than I will do in a lifetime. He is truly inspirational and as we taste his wines we realise that we have found an absolute gem. Over an incredible meal with his family of the best beef in the world (home killed and cooked) we find out that when Roamain makes a rare visit to a 3 star Michelin restaurant he is treated like royalty, such are the quality of his wines and the respect he earns. I ask Romain what we should remember about his vineyards. He tells me the Gamay St Romain (this is not the Gamay of Beaujolais – but a different variety altogether which is more pretty and feminine), freshness from altitude and cool climate characteristics. "Gamay forever" he says.