Friday 22nd June 2018
Domaines Paul Jaboulet Aîné, Rhône, Tain-l'Hermitage with Jean-Luc Chapel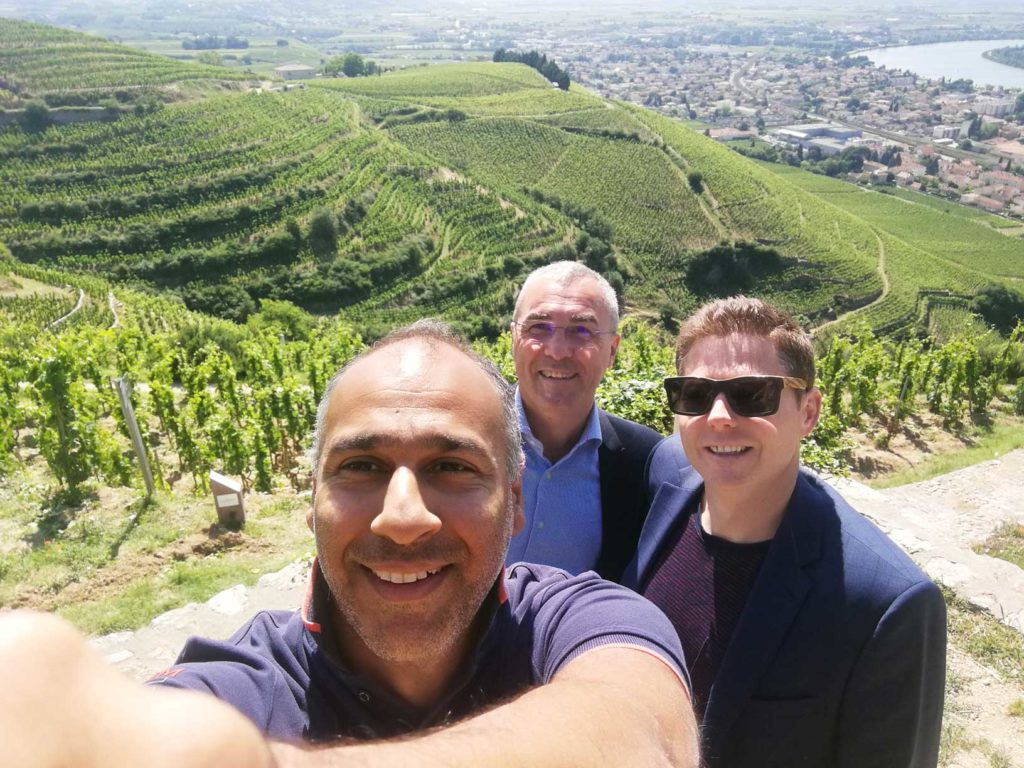 And so the final leg for Brandon and I as we head to the Rhône valley to visit Domaines Paul Jaboulet Aîné. Driving South we now feel the Mediterranean climate and the sun has a redder, more golden feel. We find the Rhône River as we pass the incredibly steep vineyards of Côte-Rôtie and Condrieu, and wind into the small village of Tain-l'Hermitage. Not only is the village home to great wines, but also home to Valrhona chocolate – how much goodness can a person handle! We visit the awesome Vineum of Paul Jaboulet on the central square. A cafe, bistro and show room – the perfect place.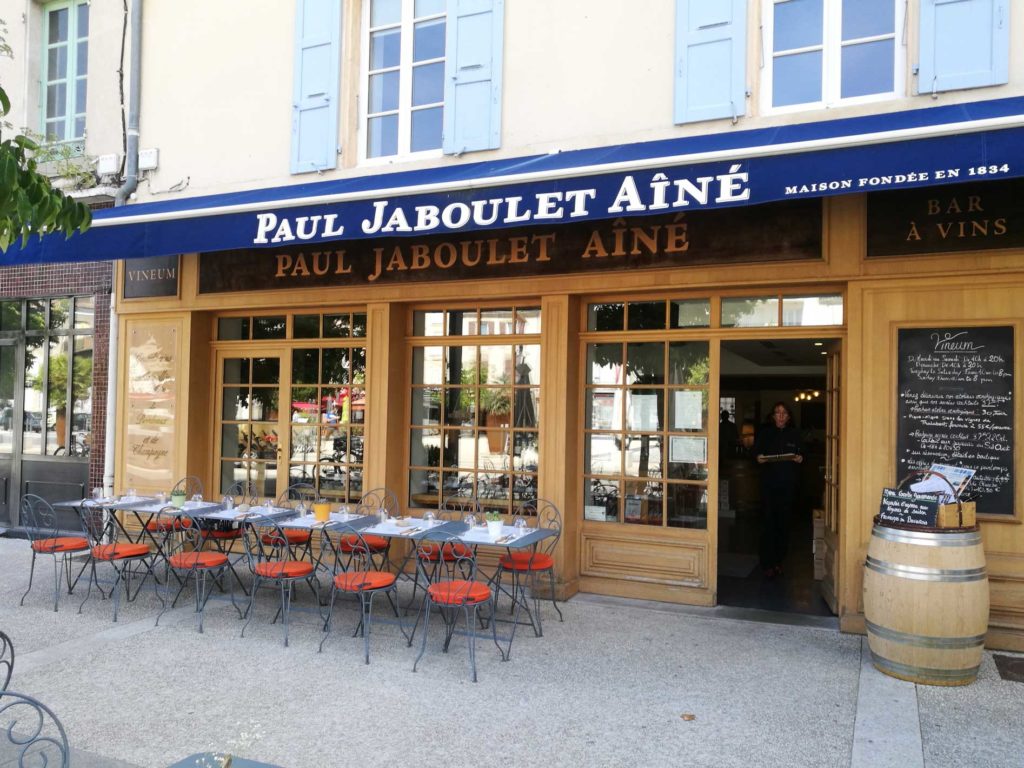 Jean-Luc is full of energy – he knows everyone, was an ex Sommelier and knows the Paul Jaboulet wines inside out. The first thing we do is to head up the hill. When you have seen an iconic symbol so many times, in so many photos, such as the Chapel (La Chapelle) at Hermitage, you think it might be underwhelming. But not at all. It is incredible! Brandon and I take hundreds of photos at The Chapel with the sweeping Rhône River behind us. We see all of the vineyards of Tain-l'Hermitage and St. Joseph across the valley and Crozes Hermitage all around us. We head back to Vineum and have a beautiful three course lunch, ending of course with Valrhona.

Jean-Luc tells us that the winery was built new in 2006 – gravity fed. The La Chapelle itself dates back to 1134 and was built by a German Knight from the Crusades. Many of the wines are now fermented in concrete eggs. There are about 70-75 employees for the Domaine, and Estate bottlings are about 450,00 bottles. If you add the Vin De Pays and Côtes du Rhônes on top of this it comes to about 3 million bottles (compared to about 9 million for Guigal).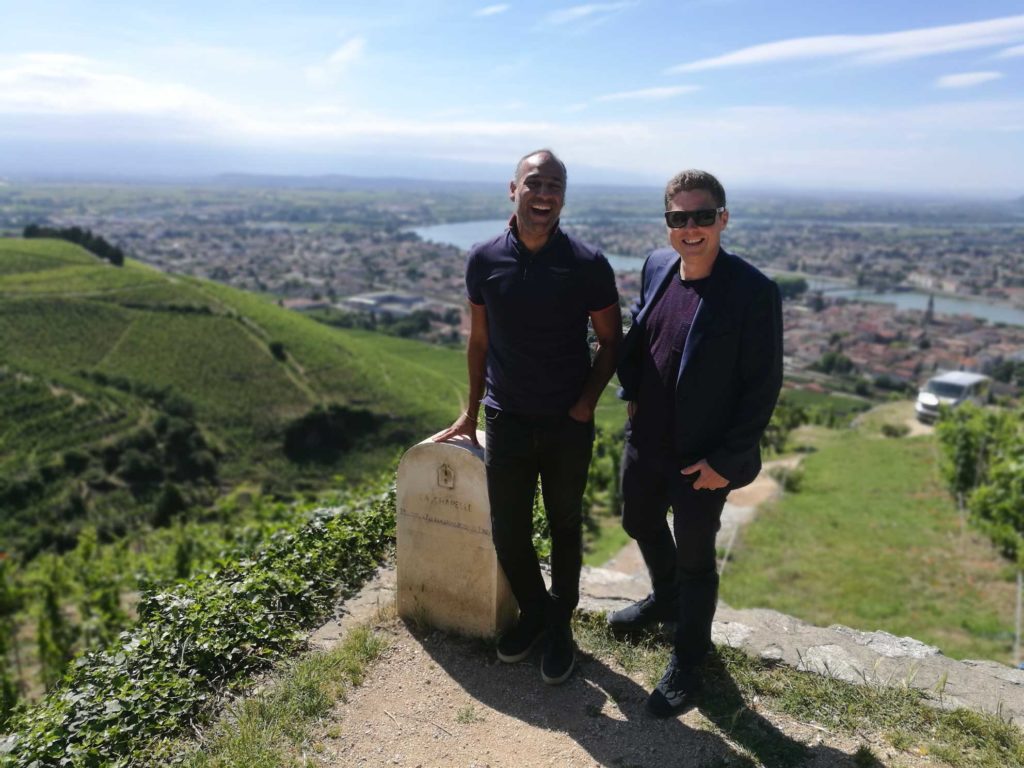 Wines and tasting notes:
2016 Crozes Hermitage Mule Blanche: Light, fragrant with a gentle texture. Beautiful length, very light ginger. Very nice. – Puneet
50% Marsanne and 50% Rousanne. 40-60 year old vines. 7ha vineyard on pebbly soils.

2015 Hermitage Chevalier de Sterimberg: Golden, white truffle, wax, honey, fatty, expressive, rounded. Excellent. – Puneet
The top white wine of the Estate. 70% Marsanne and 30% Rousanne.

2016 Condrieu les Grands Amandiers: Lemon meringue, tropical fruit, perfume, delicious, fatty, big mid palate, lemon zest. Made to pair with goats cheese, we are told. – Puneet
Lovely to have a Condrieu – Dry 100% Viognier. Very low yield.

2013 Crozes Hermitage Domaine de Thalabert: A deep colour, meaty, white pepper, purple fruit, dense. – Puneet
100% Syrah and the oldest vines of the Estate. Always good; incredible value.

2014 Saint Joseph Domaine de la Croix des Vignes: Flowers, violets, pepper, beautiful red ripe fruit, graphite PD
From the other side of the river.

2006 Cornas Domaine Saint Pierre: Brown red colour, gamey, ripe tannins, silky, chocolate, anise. – Puneet
A great vintage in the Rhône and Caroline Frey's first vintage as winemaker.

2015 Hermitage la Maison Bleue (La Petite Chapelle): Graphite, slate, raspberry, blueberry. Big tannins. – Puneet
Produced on the most Eastern slopes on the Hermitage Hill. 'La Maison Bleue refers to their charming stone house used as a shelter to wine growers on that part of the hill.

2006 Hermitage la Chapelle: Leather, tobacco, olive, anise, menthol. Awesome. – Puneet
From three areas on the Hermitage hill with light soils. The 'Bessards' with uneven granite soils, the 'Meal' with limestone and silica and the 'Rocoules' with limestone and clay. This wine really shows where great Syrah can go.