Appellation Clos De La Roche Grand Cru – Morey Saint Denis Village.
Located in the Côte de Nuits subregion of Burgundy, in the commune of Morey St Denis.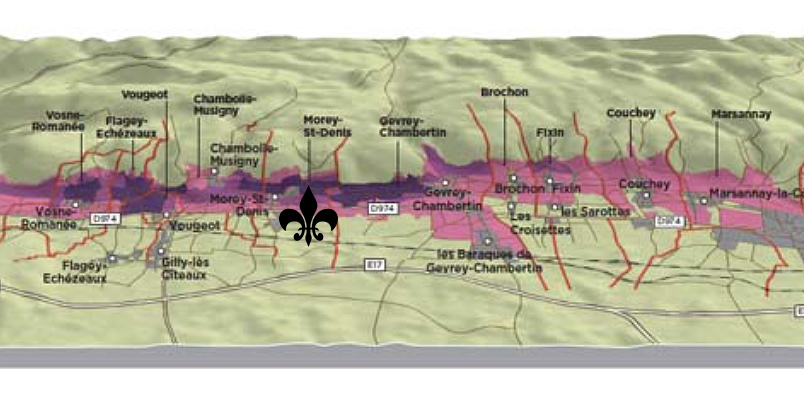 Morey St Denis was a place of asylum for Cistercian monks who appeared to have possessed numerous vineyards and even a winery by 1306.  The appellation extends from Chambolle-Musigny to Gevrey-Chambertin and covers around 148 hectares, 80% of which are planted with grapes for red wines.  In the 19th century, Clos De La Roche vineyard only covered 4 hectares.  When the AOC was created in 1936, it grew to around 15 hectares as it included the local areas known as Les Mochamps, Les Froichots, Les Fremieres, Les habiots and the lower part of Monts Luisants.  In 1971 the area increased to nearly 17 hectares when Les Genevrieres was added.
One of the key growers within this famous Grand Cru is Domaine Michel & Frederic Magnien.  Their plot is located next to Clos Saint Denis in the upper part of the village.  The vine is planted on brown limestone soils, on the bedrock.
Dhall & Nash hold a small allocation of their 2011 cuvee, which was hand harvested, hand sorted, 100% destalked.  No crushing, vatting by gravity.  Cold pre-fermentation maceration, indigenous yeast ferments.  Punching of the cap by hand.  Barrel ageing.  All vines are managed organically and biodynamically, which follows into the winemaking as well.
2011 Domaine Michel Magnien Clos de La Roche

Medium depth, mostly red pigments.  Bright, fresh, floral, warm berry coulis chocolate impression.  Vanilla essence, aniseed, opening into more complex tree bark, earthier characters.  Sandalwood, incense, violets, cassis, moving into the stony minerality, dried herb, fresh minty aspects, resting into red fruit aromas such as strawberry, raspberry, attractive, warming and fresh, akin to some of the natural wine expressions, resulting perhaps from no fining or filtering and moderate to low sulfur additions.  Next we see leesy, savoury, nutty complexity, ocean breeze, saline notes also.  Plenty of fine detailed floral notes in a pot pourri arrangement, not on the fore, but certainly present.  Meaty tamarillo like flavours develop.  On the palate, mineral stony entry, firm, dry and expansive, quite tight and elegant, red and dark berry flavours, chalky, salty mid palate, long and spicy, truffle, size and weight is notable, as expected from the plot.  Very long, salty flavoured length, spicy and earthy.  Styled in an elegant, medium+ bodied frame, racy and fresh with great complexity, fragrance and minerality.
17.5+/20 – Brandon Nash
Tasting note: Not surprisingly this really hasn't changed much since my review that appeared in January 2013. It still possesses an arresting nose of highly complex and intensely earthy nose that features notes of smoke, game, spice on the exceptionally fresh yet ripe red and dark pinot fruit aromas. There is excellent richness, size, weight and power to the large-scaled but well-detailed flavors that display an interesting saline component on the refreshing and finish that delivers very fine length. If this can add a bit more complexity than I presently envision my score may be a bit too conservative. In any event this is really quite good and note that it's not so structured and backward that it couldn't be enjoyed now with 30 minutes or so of air.
92 Points – Burghound.