Cristom Vineyards is the benchmark producer in Oregon and deserve their well-earned reputation of producing exceptional Pinot Noir. Their rich track record of excellence is poised to take on the world of Pinot Noir with their captivating 2014 releases. Dhall & Nash have just been lucky enough to land some of this coveted allocation.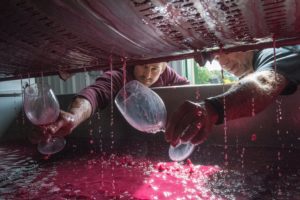 Cristom Vineyards were the first American producer Dhall & Nash imported into NZ, I recall the first time Puneet and I tasted the Eileen Vineyard Pinot Noir, jumping up and down in my kitchen in Hawkes Bay at the time, just blown away by the aromatic complexity, almost too stimulating to taste, we needed to sit down and really get to know the wine, it was a profound Pinot Noir experience for us early on in our wine careers.  This enthusiasm and excitement remains strong for Cristom and the amazing wines they produce.  Steve Doerner continues to run the wine program, he has been involved in making the wines here since the early 90's.  We love his approach with Pinot Noir, which favours whole bunch inclusion, natural handling with ambient yeast fermentation, avoiding fining or filtration and how he puts his vineyard blends together, having that deeply experienced touch from his time at the Cristom Estate for over 25 years.
"Best New World Red; One of Oregon's Willamette Valley Pinot growers – sustainably farmed and with minimum cellar intervention to produce vigorous wines with great purity and vineyard expression that develop superbly."
Decanter Magazine – Steven Spurrier
We have 3 unique and outstanding wines from this producer. Two single vineyard offerings from the Eileen and Jessie Vineyards, plus the Mt Jefferson Cuvée sourced from the top sites throughout the Cristom Estate and select parcels of neighbouring vineyards who share the same philosophy! The 2014 'Mt. Jefferson Cuvée' Pinot Noir, The 2014 'Eileen Vineyard' Pinot Noir, and the 2014 'Jessie Vineyard' Pinot Noir.