The night before, Takaki had stolen the show at the Gala dinner for the 2016 International Sauvignon Blanc Conference. Takaki wore a ceremonial Kimono, complete with deep sleeves to hide all manner of items – including a razor edged fan.
The Gala was in an open air tent in Blenheim, Marlborough – If ever there was an 'East meets West' Moment this was it, and with me – Takaki's not so humble Indian servant in tow (albeit in my Grey Crane Brothers suit with super sharp white pocket square).
The World of Wearable Arts performed that evening for our pleasure, and even they had to comment on Takaki's look. Matt Cramer from Wine Spectator was conversing to an English Journalist…"He is so humble and his wines…oh so delicious"…and so it went on as the 'great and the good' of the global wine industry discovered Folium Vineyard and all of its glorious 6 Organic Hectares that evening.
Takaki had opened an unlabeled bottle – He mentioned it was the 2011 Reserve Pinot Noir – It had been his favourite selection, and so he had held it back and left it to age in barrel for a further 8 months before bottling. It sent the table spinning in delirium as to its incredible elegance and sheer restraint, with Takaki's trademark flint and soft acidity shining through.
…And so the next day we strolled through the vineyard. I had gone for a jog through the kilometres of vines that morning in the Brancott Valley, in the middle of which is nestled Takaki's house and vineyard. Takaki's inter-rows were hard running, large amounts of cover crops assisting with the Vineyard biodiversity, making the ground uneven – I had to take high steps. As I crossed the invisible borders into the Vines of Cloudy Bay and Brancott Estate I found myself shaded in my run by much higher vines and beautiful ½ inch manicured grass on the interows. In fact since Marcel Giesen's talk at Lunch a day earlier I had been meaning to ask Takaki just one question.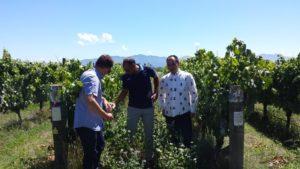 …and as Takaki and I ambled through his vineyard I came out with it… "Takaki – You talk a lot about Dry Farming – but why exactly – It it a taste thing, or a conservation thing or what??"
Takaki is a passionate man – he speaks softly and with purpose (strangely like his wines) – He embarked on his explanation….
"Many vineyard in this area use irrigation – The irrigation is automated and water is farmed through the system without any thought of the vine needs for that water. This is one reason for producing very homogenous and similar wines. Their Vine Canopies are very large, The grape yield very high and the taste ignores vintage variation…and finally the use of the scarce water is not from a conservationist view completely in harmony with the best use of our environment. If you look at my vines – they are much smaller. I do have irrigation in case of extremely dry conditions, but on the whole my site does not need the added input of water. This site receives just the right amount of water for my vines to produce delicious grapes – with different flavours every year. However because of this I have to manage every single vine independently in the vineyard. I do not want any unripe berries, or overripe berries. Therefore when I crop thin or leaf pluck i use a different methodology and must go through every vine – one by one. What takes some others 3 Hours, take me 4 Days. In this way you get to know your site also. I learn from the Old World examples of how they have been farming for centuries – there is not necessarily any need to reinvent the wheel here in New Zealand with new farming practices when it comes to cultivating grapes for the purpose of wine"
"Takaki" I said, " I have represented your wines for several years and you have not relayed this story to me"
Takaki smiled…"I know" he said, " I want people to experience the end product and focus their attention there…also so many people tell their story and often their story is not the whole truth…and truth is very important to me…."
That morning in solitude in Takaki's house, with golden sunshine all around, I tasted Takaki's upcoming vintages – yet to be released. Afterwards we sat together a while and enjoyed what the day had brought to us. Here are my tasting notes.
2015 Folium Vineyard Estate Sauvignon Blanc 91 points, drink 2016 – 2021
Restrained Elegance – long and lingering finish. Lovely notes of flint.
2014 Folium Vineyard Estate Sauvignon Blanc 90 points drink 2016 – 2020
More Grassy, Methoxy characters – typical long finish – a creamier mid palate – very pleasant
2015 Folium Vineyard Reserve Sauvignon Blanc 91 points, drink 2016 – 2025
A rounder and more expressive style with rich body – the fullest of Takai's Sauvignon Blancs that I have tried to date, yet trademark flint and stone fruit
2014 Folium Vineyard Reserve Sauvignon Blanc 94 points, drink 2016 – 2025
Strong initial flavour – very focused, spreads out across the palate – trumpet shape. A softness to the acidity – it is there giving trademark backbone – but so subtle – Incredible
2015 Folium Vineyard Estate Pinot Noir 89 points, drink 2016 – 2030
A more pungent nose than the 2014, wilder red fruit and some wild herbs, but of course length and elegance with Takaki's ever present but soft acidity
2014 Folium Vineyard Estate Pinot Noir 90 points, drink 2016 – 2030
Beautifully supple tannins, focused, restrained, lovely toasted notes with red fruit on the note – delicious
2015 Folium Vineyard Reserve Pinot Noir 93 points, drink 2016 – 2030
Beautiful – Full Body combined with Elegance (How many times can I say 'elegant' when it comes to Takakis wines – I must find a new word!)
2014 Folium Vineyard Reserve Pinot Noir 91 points, drink 2016 – 2028
Brighter and cleaner than the 2015. The 2015's have a fuller slightly wilder edge.
Cheers,
Puneet