Once a winegrower has deemed the right moment to begin harvesting grapes off the vine, the aging process has already begun.  For the sake of this article, we will be focusing on areas for consideration on wine aging from the point of bottling forward, with specific reference to fine and rare wines, both new world and old world.
The plethora of environmental, viticultural and winemaking influences in the fine wine world are well established and consistently adapted to enhance the perceived quality and performance on a wine's life cycle.  Based on substantial research and experience we know that wine develops and changes occur that lead to the aging processes of wine once it has been bottled.   Furthermore we have certain expectations of how a wine tastes over time as it ages in bottle, the challenge of a wine drinker who appreciates these changes is to determine the right moment to pull the cork, screw the cap or pop the bottle, when the specific wine in question will offer the most pleasure.
With aged wine we need to determine how much age we actually like or how much the wine can handle.  If one does not normally consume wine with long term aging, they may not actually enjoy the flavours and tertiary characters that develop over time.  For example, the aging process may eventually go too far due to oxidation, where the fruit is no longer present, in a say a bottle of pinot noir for example and characters of meat, mushroom and cooked carrot notes take over, the wine is depreciating at this stage.
Depending on the variety, varieties and said influences on these wine styles, the aging potential varies widely.  It is a commonly held notion that red wines have a stronger potential to age long term over whites and in many cases this is true, however ask any die hard Riesling or Chenin blanc collector about that and you might be lucky enough to taste the greatness of these varietals capacity in the cellar.  The environment of a cellar is hugely important, light, humidity, temperature, space, arrangement, all of these factors must be considered on how a wine appreciates.   At Dhall & Nash we have considered all of these factors and initiated an appropriate cellaring regime in our warehouse to ensure that we offer the ideal environment for our fine wines to appreciate and develop for the drinking pleasure for our customers.
Cheers,
Brandon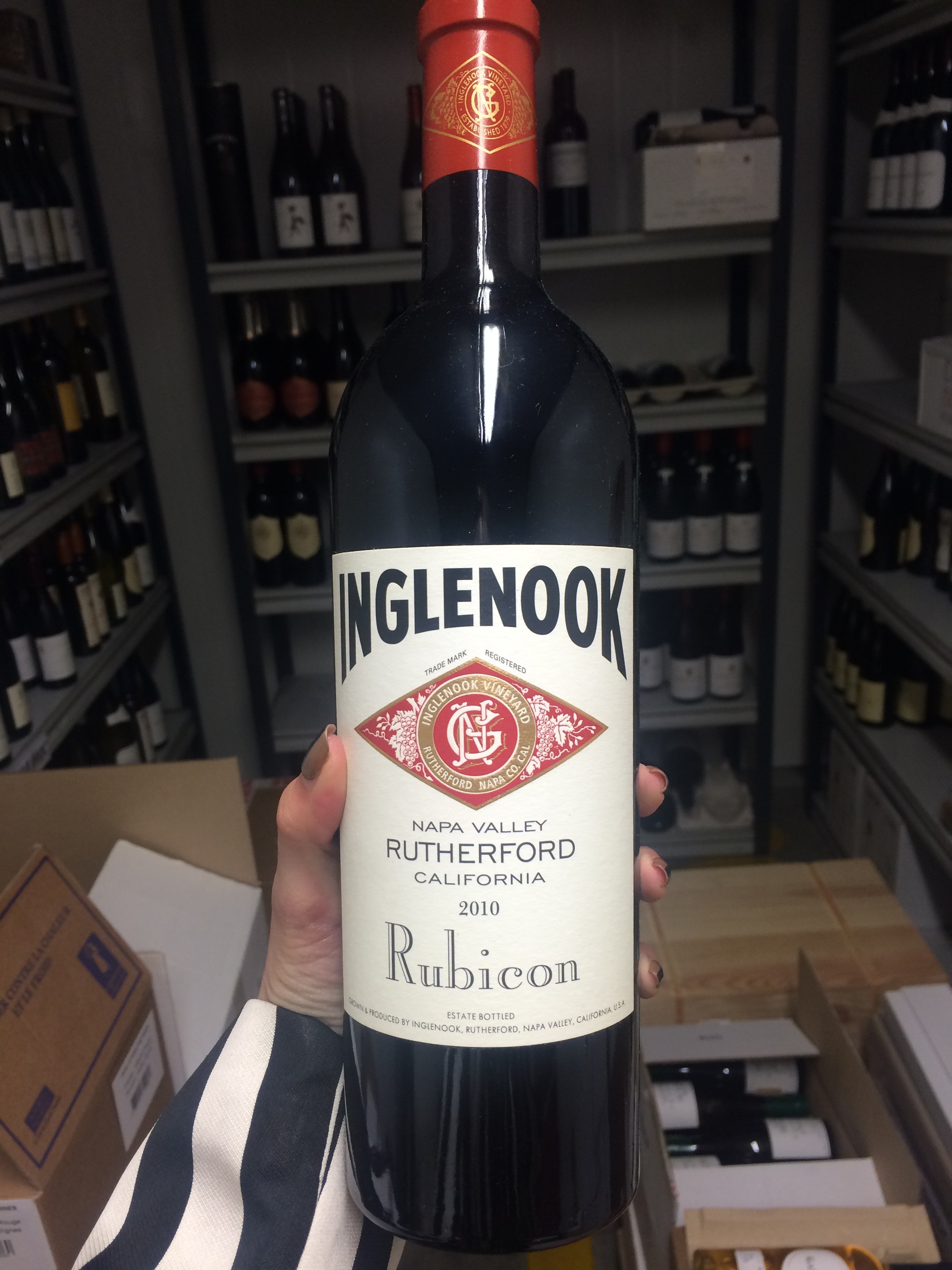 A few wines from our cellar selection:
2010 Inglenook Rubicon – California
93 points – Wine Spectator
"A classy, well-structured effort, with flavors that build and gain depth around a core of loamy earth, espresso, dark berry, cedary oak and tobacco. Most impressive on the graceful, long and persistent finish. Cabernet Sauvignon, Cabernet Franc, Petit Verdot and Merlot. Drink now through 2026."
2005 Brane Cantenac – Bordeaux 
95 points – Robert Parker
"A sexy, style of wine from the Lurtons at Brane-Cantenac, this wine (a blend of 51% Cabernet Sauvignon, 41% Merlot and the rest Cabernet Franc) has a stunning nose of forest floor, licorice, blackcurrants, plums and spring flowers. Soft tannin, full-bodied opulence and beautifully textured, lush richness, make for a brilliant wine from this large, 180-acre vineyard. In spite of the wine's stunning forward fragrance and lushness, the color still looks as if it is 3-4 years old, rather than a decade. This is a big-time winner in 2005 and should drink well for at least another 25+ years."
2010 Domaine Michel Magnien Morey St. Denis "Les Chaffots" 1er Cru
93 points – Allen Meadow's Burghound
"This is not quite as ripe though the nose is otherwise quite similar. There is a fine minerality to the medium weight, intense and admirably pure flavors that culminate in a wonderfully complex, balanced, linear and overtly austere finish. This is a very serious effort that again will need plenty of cellar time to reveal its full potential but that patience should be well rewarded."
2012 Rene Muré Clos St Landelin Riesling
92 points – Robert Parker (Stephan Reinhardt)
"From 46 years old vines, picked with 45 hectoliters per hectare on October 18th and kept on the lees for 9 months the pale yellow colored and bone dry Riesling Clos St Landelin offers a very clear and gentle bouquet of ripe white-fleshed nectarines and pineapples which are transferred onto the buoyant palate which is round, fresh and clear, very well balanced and really fine and elegant. Provided with tension, a long and frisky finish and a lovely mineral expression this Grand Cru should go for up to 15+ years." 
1999 Billecart-Salmon Cuvée Nicolas François Brut
93 points – Wine Spectator
"Very elegant, ethereal in texture and well-knit, offering flavors of poached pear, black licorice, lemon pâte de fruit, pastry and ground ginger. Shows fine balance and integration, with a fresh, lasting finish of ripe fruit and saline minerality. Drink now through 2027."
2008 Mountford Estate 'The Gradient' Pinot Noir
89 points – Wine Spectator
"Aromatic, with intense spice, forest floor and scorched earth notes, showing a firmness and density to the black cherry and blackberry notes that lead to a spicy, firm finish. Drink now through 2021."