Another year, and another celebration of good food, wine and island life at Vomo in Fiji.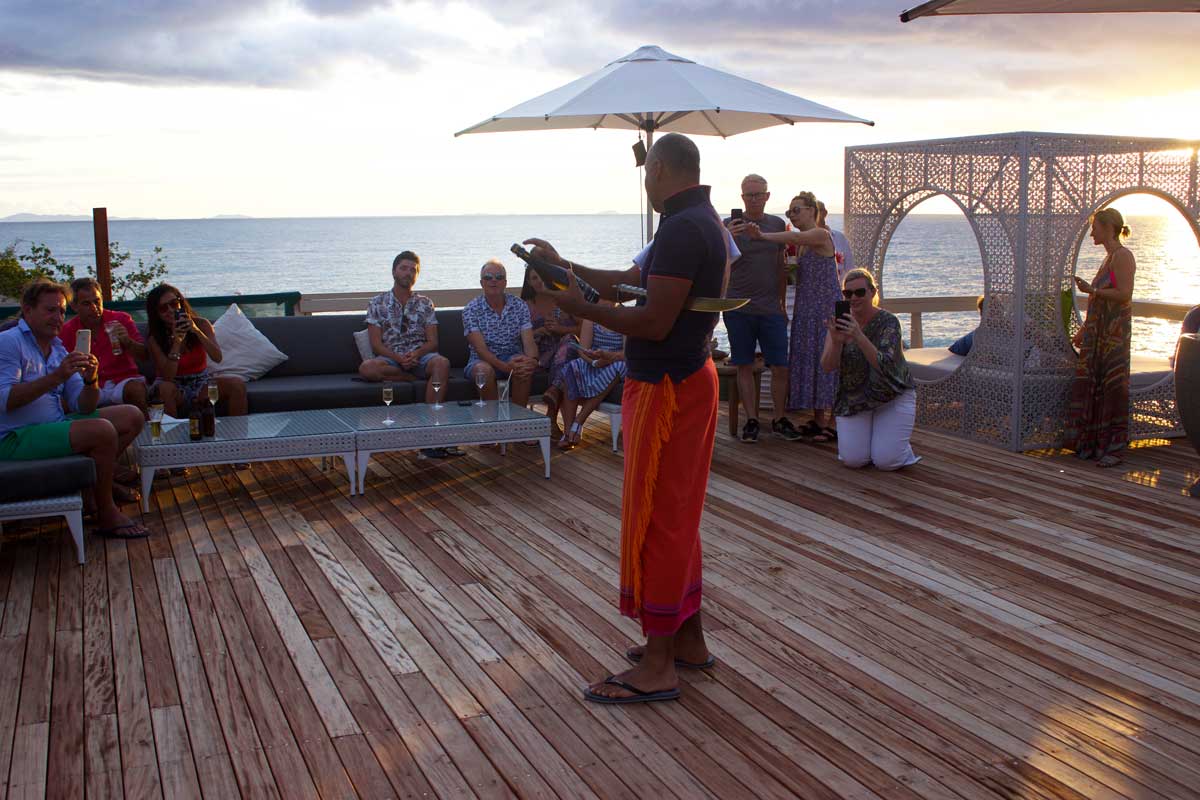 I hit the ground running with a La Marca Prosecco cocktail demonstration at the legendary Rocks Bar. Such was our inventive flair that we invented a whole new cocktail – The La Marca Sparkler. One part elderflower cordial, one part gin, one part lemon juice, topped with La Marca Prosecco and garnished with cucumber. This drink was made for afternoons by the beach!
The following evening, with a magnificent sunset behind us, we worked through the exceptional Rosé wines from Sacha Lichine and we discovered a new equation in the process:
Whispering Angel + Sunset + Vomo = Divine!
..and then onto the big one – a New Year's Eve degustation. New chef Michael Fossbender was immense and designed an exceptional menu. For me the 'hit' of the night was the most simple – a natural oyster with a sip of great Chablis. C'etait incredible!
NYE MENU
Apperetif
NV Billecart-Salmon Brut Reserve
–
Something Small
Natural Oyster | Ginger & Tarragon Vinegar | Fresh Shallot
–
To Start
Tuna & Toasted Sesame Tataki | Bush Lemon & Mint Sorbet | Passionfruit Butter Mayonnaise | Basil & Kaffir Glass | Salmon Caviar
Both served with 2015 Domaine Testut Chablis, Montee de Tonnerre
–
To Follow
Local Fijian Prawn | Raspberry Vinaigrette | Pink Grapefruit & Peach Salsa | Long Beans | Roast Fennel Bulb | Dill
Served with 2017 Caves D'Esclans Whispering Angel Rosé
–
Palate Cleanser
Cointreau & Cucumber Granita
–
Main Event
Pan Seared Duckbreast | Beet & Anise Puree | Twice Cooked Dalo | Honey Cinnamon Glazed Baby Carrots | Orange Vanilla Jus | Raw Baby Beets | Basil
Served with 2014 Stag's Leap Hands of Time Red Blend
–
To Finish
Chocolate & Mango Delight | Brownie | Mango Mousse | Chocolate Mousse | Candied Vanilla Bean | Soursop Sorbet | Chocolate Soil | Isomalt | Gold Dust
Served with NV Billecart-Salmon Sous Bois
And so NYE came and went, and then it was 2019. The blue skies shone. A simple toast to the New Year – a celebration of 200 years of Maison Billecart-Salmon as we saluted the 1st day of the year with these beautiful Champagnes.
The week rolled on and we opened a few more gems for happy patrons including a Magnum of the 2015 Ogier Clos de l'oartoire des Papes Chateuneufdupape, NV Champagne André Clouet from Bouzy and Mac Forbes RS19 Riesling.
Life can be bitter, life can be sweet – The perfect life is bitter and sweet.
A bientot, Vomo.

– Puneet