TERRE BRÛLÉE
SOUTH AFRICAN WINE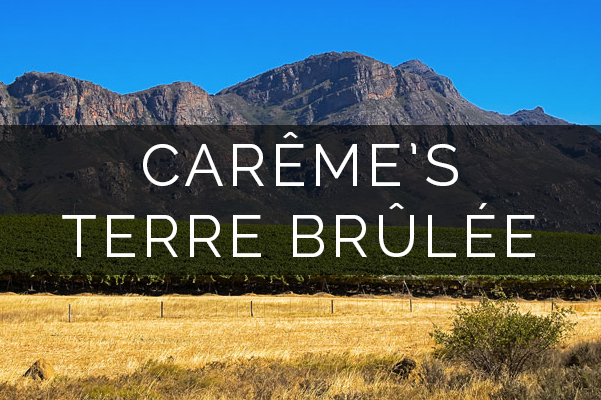 This South African wine passion project for Tania and Vincent Carême is Terre Brûlée. Founded in 2013 in the Swartland wine region in South Africa, the Carême's have managed to source top quality fruit from 40 year old vines and rent winery space to make the Chenin "Le Blanc" and a red blend "Le Rouge" that Vincent had started thinking about during his time working in South Africa in the 90's.
Vincent's affinity to the region is evident in these wines that reflect unique elements which echo the distinctive South African terroir. This is a deliciously exciting confluence – between Old World knowledge and expertise with ancient but ostensibly New World terroir.
An exciting South African wine. Vincent firmly believes that the quality of wine is determined in the vineyard and consequently is meticulous about his vines. Carême's southern Swartland vineyard is at 200 metres above sea level and made up of two main Chenin Blanc blocks around Jacklesfontein. They are dry farmed, unirrigated 40-year-old bush vines set on shale and decomposed granite. In the cellar, the Terre Brûlée wines, even though derived from this tough terroir, are made in similar sympathetic artisanal methods and definitely with the same care and precision as Vincent's French wines: whole bunch pressing, only natural yeast for fermentation and an approach with minimal intervention in the cellar.
Visit Tania and Vincent's website here