CORAVIN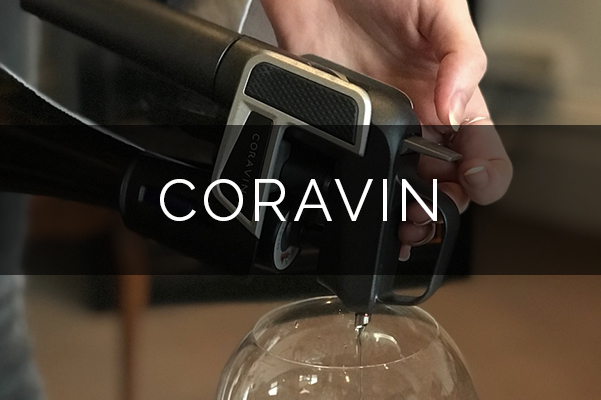 Enjoy your favourite wines without pulling the cork! Coravin Technology allows you to pour and enjoy fine wines without disturbing the natural ageing process – or the process to commit to the whole bottle. For centuries, the cork had to be removed in order to enjoy a glass of wine – that era is over. The Coravin System keeps the cork in the bottle, where it's been since it was first sealed in the winery. Now you can explore your finest wines by the glass whenever you like, and feel confident that instead of oxidising, the wine remaining in the bottle will continue to evolve naturally.
The Coravin system was invented by Greg Lambrecht, a man with a background in physics, mechanical engineering, nuclear power and medical devices.
"I fell in love with wine as a young man and had amassed an at-home collection that began collecting dust while my wife was pregnant. I still wanted to enjoy great glasses of wine, but didn't want to commit to full bottles. For me, wine is a thinking beverage – it's something you contemplate, experience side by side… So here I am, an expert in needles. In particular, needles that don't do damage to things. So I came up with an idea to pass a non-coring needle through the cork while it was still in the bottle. My hope was that I could then return the remaining wine to my cellar, and enjoy it again and again, whenever I desired. I'm a science geek, so what followed was a decade of development and testing until I had a system that left the cork in place, but still delivered great glasses of wine, indistinguishable from untouched bottles."

"Gadget of the Year: It could have been the iPhone, iPad2 or a Leica D-Lux Camera – but it's none of them. I looked for a gadget that is unique and solves a problem never solved before. My hands-down favourite is the Coravin Wine System." – Phil Baker, San Diego Source

"Nothing I know of preserves wine in an opened or 'accessed' bottle for years as this system does." – Jancis Robinson, Wine Writer & Critic

"Coravin is the most transformational and exciting new product for wine lovers that has been invented/developed in the last 30+ years. This is a killer device…[it's] going to revolutionise drinking wine…" – Robert Parker Jr., Wine Writer, Expert & Critic.
Visit Coravin's website here