It's easy to get wrapped up in the excitement of an imported wine, from distant lands, crafted on exotic vineyards overlooking idyllic old-world settings. And rightly so! But in saying that, it's all too easy to forget what you have in your own backyard. We're all a little guilty of taking our homeland for granted – and what we have here in our backyard, kiwis, are some real gems.
We would like to take the time to shine a light on one of our New Zealand gems – Hawkshead. Dhall & Nash and Hawkshead go way back. We've been working with this fine Central Otago producer for several years and are consistently impressed with the wines year in, year out.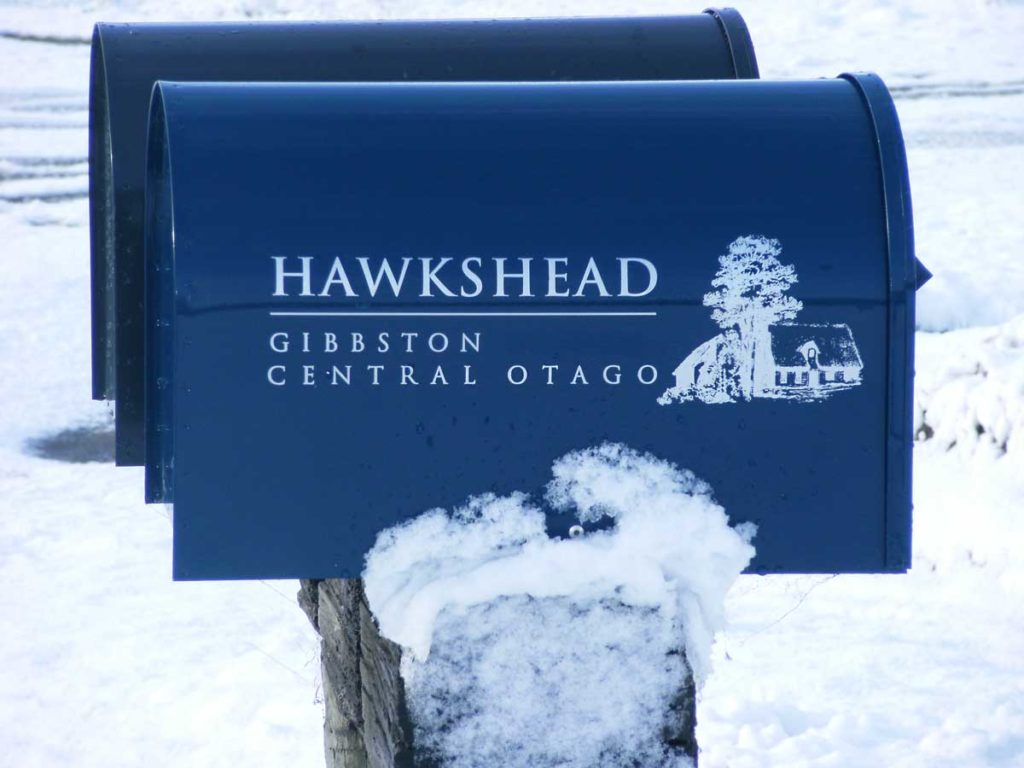 Hawkshead came to be when in 1995, Denis Marshall bought a plot of land in the Gibbston Valley after forging himself a long and successful career in politics, specialising in horticulture and conservation. In 2001 the first Pinot Noir vines were planted, quickly followed with more plantings in 2003. Two years later, he and his equally passionate partner, Ulrike, established the Hawkshead Vineyard Partnership. The focus is on careful land use and soil management, with minimum interference with nature.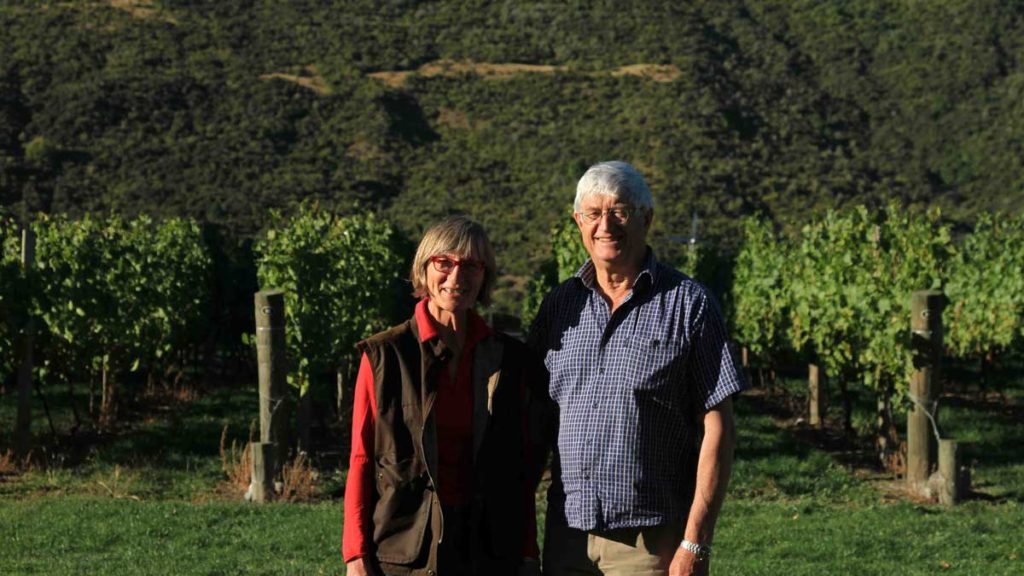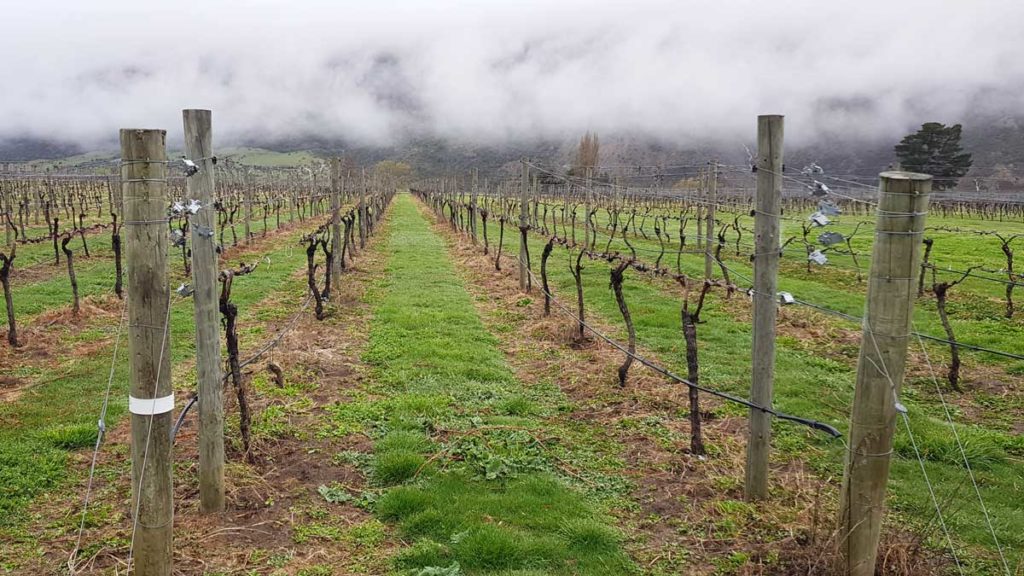 Everything about the Hawkshead winery is a nod to nature, from the philosophy behind the viticulture to the meaning behind its name and labels. In 1841, Denis' ancestor, naturalist William Swainson, settled in New Zealand and named his first home "Hawkshead". His books, illustrations and folios of beautiful birds and tropical shells are still enjoyed and admired by natural history collectors around the world, and so it was only fitting to choose the name of William Swainson's colonial home and the original drawing of it as the Hawkshead wine label.

Dhall & Nash Staff Visits
Over the past year, we've been sending our staff down to visit with Denis, Ulrike and the winery dogs to help them understand just what makes Hawkshead wines so beautiful…
Michael tells us a little bit about his trip down to the winery in October, 2018:
"A short drive up the Gibbston Valley takes us to a beautiful home where Denis and his wife Ulrike reside. They say the house was designed more around the furniture and kitchen than anything else and it's filled with the most ornate old wooden cabinets each loaded with gleaming silver and crystal. We have a look at some current and back vintages of their Estate, Gibbston, and Bannockburn Pinots as well as a little look at the Riesling and Rosé."
2014 Hawkshead Riesling: Slight reduction. Green apple skin, beeswax and lanolin only just starting to show. Balance of complexity between age and fruit characters is excellent. Off-dry (10g/L) with a medium acidity bringing freshness and wonderful clean finish to the wine. – Michael
Showing light kerosene notes, mild reduction, waxy, powdery, lemon and lime. Much rounder mouthfeel now. Spicy, limey acidity, grapefruit again, with a sweeter final impression. 16/20 – Brandon

–
2015 Hawkshead First Vines Pinot Noir (Gibbston Valley): Dennis explained this home vineyard was planted as much with a crowbar as a shovel due to the top soil being so shallow and large stones (Schist) littering the land.
Bright ruby in colour. The wine is just finding balance between its intense fruity aromas and the 2 years bottle age brings just a touch of savoury. A wine for both drinking and cellaring. Fresh plum, rhubarb and cherry with lovely fresh mushroom on the palate with ripe, powdery tannins. – Michael
Beetroot, roasted veges reduction to start. Leather, cherry, mint, sweet pea, effortless, natural tannin, with elegance, seeing the schist, spicy, berry, lifted, rhubarb and strawberry fruit characters. Compelling. 17/20 – Brandon

–
2017 Hawkshead Estate Pinot Noir: Medium + intensity of aromas, sweet spicy cinnamon and abundant fresh black plum, black cherry and violet florals. The tannins are soft and inviting. Pleasing savoury complexity rounds out the palate for a very well-balanced wine. – Michael
High sulphides, sweet, silky, slightly clipped at this stage. 2017 was a challenging vintage, small crop due to frost, the wine shows a higher acid profile, some perfume, light game and spice notes. 15/20 – Brandon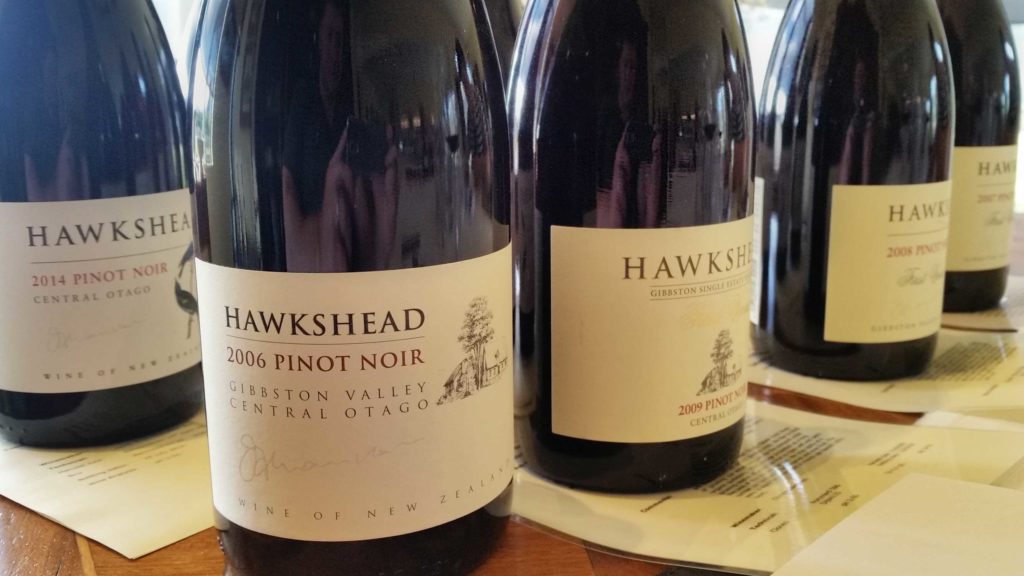 "Following the reduction (sulphides) we had been finding, a short conversation ensued around screw caps 100% seal on wine. Where by free sulfur without access to oxygen ingress through a cork would be more likely to bind with other available elements including hydrogen, to create hydrogen sulphide. This means the winemaker must be so much more careful of the free sulfur and potential for reduction when it comes to bottling."
Next up was a visit from Tori, Matt and Owen who enjoyed a tour around the vineyard, lunch at the Bannockburn Hotel and, of course, some wine tasting.