Much-celebrated Wairarapa winery Schubert was recently named one of the top 3 New Zealand wineries by Lisa Perotti-Brown of Robert Parker's Wine Advocate, and with wines like these, it is easy to see why. Although best known for their outstanding Pinot Noir, Schubert also produce other incredible wines, including Syrah.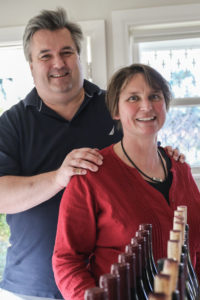 The Dhall & Nash sales team were invited along to Schubert's recent vertical tasting, involving 15 vintages of this elegant and perfumed wine. From the first vintage in 1999, to the most recent release, this tasting was truly one of a kind.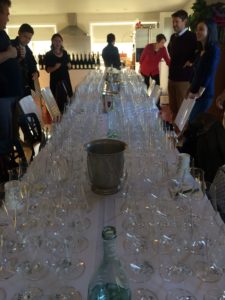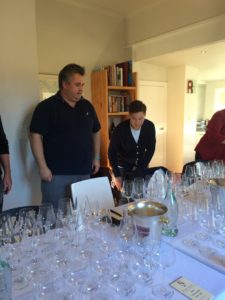 Silence descended as we plunged into the tasting, pens poised, noses in glasses… then smiles and appreciative glances towards Kai and Marion as we discovered each vintage – a perfect snapshot of each individual growing season. At one point, the resident cat came out to investigate – she felt a little distrusting of why so many people were being so silent!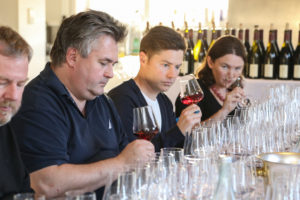 Brandon was contemplatively taking notes – falling naturally into his role as a wine judge. Below are notes on his 'picks of the bunch'.
1999 – Purple, red medium+ depth.  Game, lavender, walnut, leather, Turkish delight, liquorice, mint.  Silky entry, raspy acidity, firm, dry, fine tannins, salty, long, spicy, minty, green peppercorns, floral, lifted and sweet fruit finish, looking pretty good.  16+ points
2001 – Purple, red medium depth.  Gamey, smoky, eucalyptus, capsicum, fennel, celery salt, sweet fruit, cassis, plums, violets, lavender, floral, dry, layered, rich, spicy, fleshy, long, sweet fruit on the palate, floral, fleshy, long, good tension, elegant, fine and spicy.  16.5+ points
2005 – Purple, red moderate depth.  Game, rose petal, green peppercorns, subtle, nutmeg, jubby fruit, creamy, rich, round, fleshy, firm and dry, spicy, good acidity, sweet fruit, youthful presence, savoury complexity, salty, long, good balance and tension, umami flavour, long, spicy, savoury and salty to finish.  17.5+ points
2008 – Dark purple, red, medium depth.  Violets, caramel, smoky, cassis, oak, leather, chocolate, rich, luscious, black forest chocolate cake, good acidity, plush, warm, silky, rose petals, salted caramel, pine needles, glycerol feel, with balancing tart acidity and dried herb finish.  Very generous, delicious glass of wine here.  17.5 points
2010 – Purple, red medium depth.  Aromatic, green peppercorns, violets, peaty, lifted, cassis, silky, full flavoured, dry, firm, fleshy, fresh berry coulis, good balance, fresh, long, elegant, jubby sweet fruit nuance, well made, delicious, fine, floral, mineral with lovely extract.  18 points
2013 – Dark purple, medium + depth.  Fruity, floral, lifted, incense, chunky, youthful, sweet fruit, high oak notes, slightly reductive characters, more noticeable tannins, need time, carries balancing acidity, jubby fruit and good extract.  Promising Wine.   16.5 points
As if this once-in-a-lifetime tasting wasn't enough – we were treated to a veritable feast by local caterer Ant North. As the Schubert team cleared the table of the hundreds of glasses, canapés were served accompanied by Billecart-Salmon NV Blanc de Blancs, as we mingled and shared notes on the wine we had just tasted. Once we were re-seated, Ant brought out dish after dish of delicious food – including barbecued beef and venison fillet, gratin, heirloom carrots and other delights.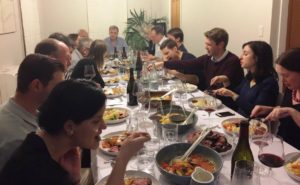 Thanks are due to the wonderful team at Schubert – Kai, Marion, Vanessa, Robert and Martina, for your generous hospitality and delicious wines. We can't wait for the next vertical!