With the new wines safely in barrel and tank, now is the time to sit back, open a bottle and reflect on the vintage that was – 2016.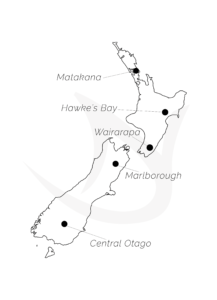 From Central Otago – Denis Marshall of Hawkshead reports:
"We are celebrating; and delighted to report that the 2016 vintage year was one the best we have ever experienced in Gibbston; valley of the vines in Central Otago. That is good news as we celebrate our 10th vintage. Spring arrived with the usual frosts but they were not severe and did not damage precious tender buds so we were off to an excellent start." Read more
In Marlborough, Takaki Okada of Folium Vineyards had a rushed start to vintage:
"Harvest 2016 was started with a small panic.
During my business trip in US, I found several posts online of the beginning of harvest 2016. I asked my winemaker friends if they have started. And the answers were NO!! What a relief!
Normally I have a cup of tea when I am back from overseas trip, but this time I directly run into the vineyard. Fruits were almost ready to pick." Read more
In the Wairarapa, Kai Schubert and Marion Deimling of Schubert wines have high hope for the 2016 vintage:
"We started picking on the 21st March with our first Pinot Noir harvest, which was a week earlier than usual for us. With the weather on our side, of glorious warm blue sky days, the fruit arrived at the winery in very beautiful, healthy and in pristine condition." Read More
Up in the sunny Hawke's Bay, Tony Pritchard of De La Terre is still pinching himself:
"Despite winemakers getting excited before Spring 2015 about talk of another warm El Nino pattern, the pre-Xmas pattern left many of us concerned.
You can never be sure how the season is going to progress and there is no guarantee that you will 'catch up' on a cool start to a season." Read More
In beautiful Matakana, Toby Gillman is very pleased with the intensity of the wines:
"2016 in Matakana started with an unusually warm and muggy summer.  High night-time temperatures and humidity increased the disease pressure in the vineyard, so through January and February the focus was on keeping the vines and grapes clean." Read More
By all accounts, an exciting vintage. We cannot wait to sample the results! Thank you to all of our contributing winemakers for sharing their experiences.