PENTIRE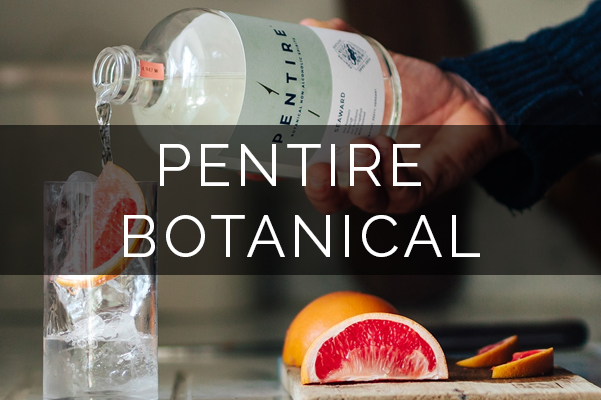 PENTIRE WAS FOUNDED ON A LOVE FOR COASTAL LIVING, NOT UNLIKE
OUR OWN LOVE FOR THE BEACH HERE IN AOTEAROA NEW ZEALAND.
Not just any non alcoholic spirit.
"Catching waves until dusk. Camping on cliff tops and foraging hedgerows for unexpected bounty. Sharing and experimenting with the flavours we found on the coast. We wanted to bottle that experience. And create a drink that harnesses the power, beauty and immense flavours of plants."
– Alistair Frost, Founder
Pentire started with a deep love and appreciation for nature and the outdoors. Creating a non-alcoholic spirit which captures the beauty, power and immense flavour of plants and enables clarity of mind and meaningful experiences outdoors, is what drives us. And it's these experiences which drive us to do everything we can to preserve, care for and celebrate the environment.
Pentire are committed to sourcing responsibly. Where possible, they use Fair Trade & Organically Certified ingredients, accredited by the Soil Association and extracted naturally. By nature, the botanicals they use also boast an amazing array of nutritional qualities. Rich in vitamins, carotenoids, flavonoids, antioxidants, fatty acids and omega 3 – they offer a range of incredible health benefits too.
The Pentire range of packaging is plastic free. All of their cardboard is 100% recycled and 100% recyclable. And they only use kraft paper tape. Thanks to their fantastic print partners Parklane Press, their paper collateral is printed using waterless technology. A process which eliminates water consumption and the release of VOCs (volatile organic compounds) into the atmosphere – raising the bar for environmental standards across the print industry.
Pentire's Website Here.