CHÂTEAU DES JACQUES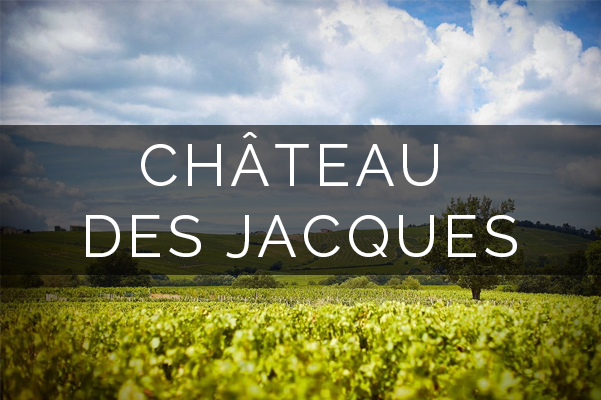 Once a place to rest along the pilgrims' route of Santiago de Compostela, Château des Jacques was purchased by Maison Louis Jadot in 1996. Although the domain has, historically, always had close ties to Burgundy, the links between Beaujolais and the wider Burgundian region have not always been all that well defined. This is a reminder that, due to its size – 18,000 hectares in total – Beaujolais has its own distinctive identity.
"A pioneer among the producers who have put Beaujolais back on the fine wine map, the Château's culture is one of constant questioning and change, with the overall aim of improving our wines. The 85 hectares of vineyards at the Château des Jacques are primarily located in Moulin-à-Vent, Morgon and Fleurie. In short, our vineyards are situated in the region's best climates.  Each parcel is different, with its own history, its own geo-pedagogical characteristics, its precise location, the age of the vines planted there, its relationship with the grower who tends the vines… Each parcel of soil, therefore, needs to be treated according to its own individual character and requirements, whether the method applied is based on the principles of organic viticulture, biodynamics, applied geobiology or something entirely different."
One thing that makes Beaujolais totally unique is its soils, based mainly on pink granite, a crystalline bedrock that was formed 350 million years ago. Beaujolais also derives its uniqueness from its grape, Gamay Noir. Gamay is the only plant that thrives on these infertile soils, and the wines it creates have always been numbered among the great red wines of Burgundy.
"These are serious, age-worthy examples of Beaujolais, and while their stylistic nod to the Côte d'Or continues to make them stand out… Readers wondering about the aging potential of these wines should know that, from my cellar in Burgundy, I have recently consumed bottles of the 1961 and 1969 vintage that were still full of life." – William Kelley for Robert Parker's Wine Advocate
Visit Château des Jacques' website here